The worst kept secret of our favorite hobby was finally revealed last week during the Pinball Expo, which was the 37th edition. It was held as every year in Chicago – the home of pinball.
To put things in context, we must remember that Chicago Gaming Company (CGC), has made a specialty of attacking the "mythical" pinball machines of the 90s, and reshaping them in the 21st century fashion.
Chicago Gaming, the pinball remake expert
Thus, in the last few years, the public has been treated to the (excellent) remakes of Medieval Madness, Attack from Mars, and most recently Monster Bash, even though it was already three years ago.
And yes, CGC takes its time, and that time seems long when you love and don't count. Especially since we all know since Methuselah that their 4th remake is Cactus Canyon, a pinball machine that has a little bit of a special place in the wonderful Bally/Williams Dot Matrix galaxy.
Cactus Canyon, the last pinball of its generation
Let me explain: in 1998, Midway (author's note: the parent company of the Bally and Williams brands) reached the end of the line. Video games had "replaced" pinball machines in the hearts of gamers and in the very heart of arcades. The manufacturer decided to completely rethink its investments by devoting itself to video games, but also to slot machines and other "redemption games" that Americans and Asians love so much.
The year 1998 saw the end of the sublime era of "DMD" pinball machines, which we afficionados continue to watch with a slightly emotional eye: sensational machines, of a rare complexity with toys and mechs such as we see far too rarely today, and that's a shame.
Cactus Canyon is the very last "classic" pinball machine of the Bally/Williams era, there will be no more after (except, in another genre, the two Pinball 2000s that are "Revenge from Mars" and "Star Wars Episode I"). Produced in only 903 copies at the time, it is as rare as it is collectible since it is THE LAST ONE!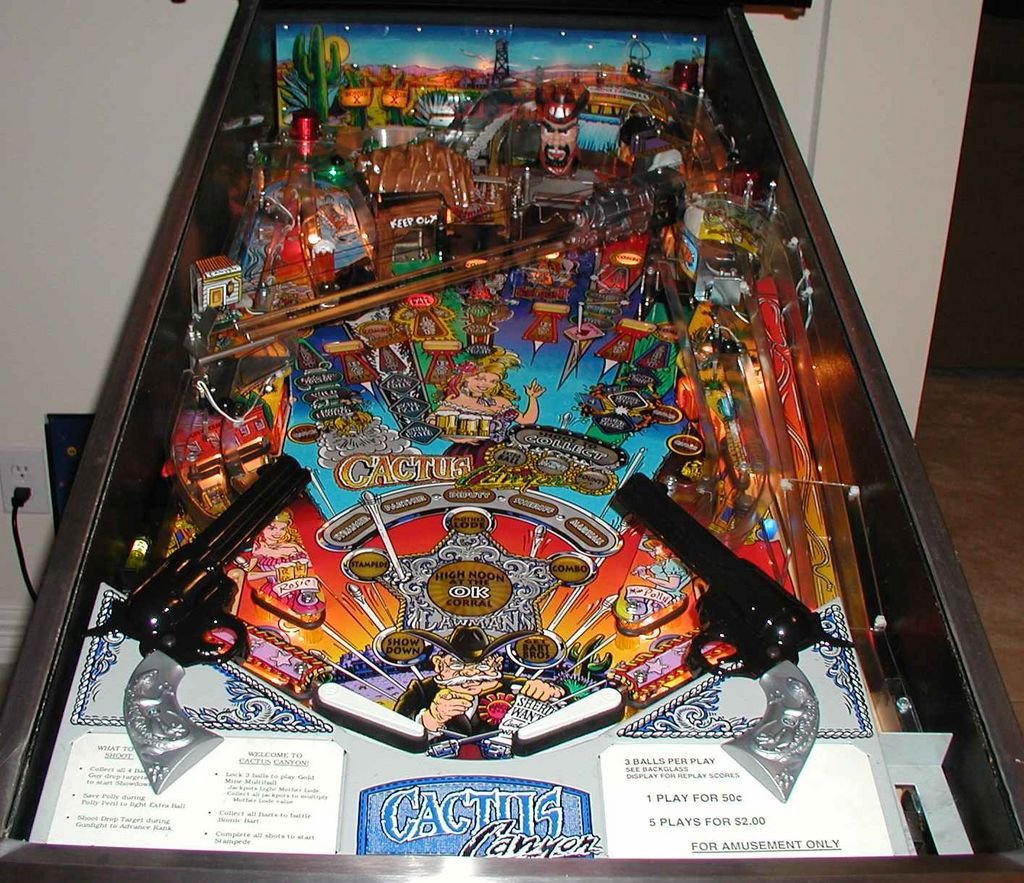 A machine with incomplete code
And to top it all off, its code is incomplete! And yes, forced to drop everything for a last attempt with Pinball 2000, Midway stopped the coding work on Cactus Canyon to send its engineers to save the pinball house with Revenge from Mars. Quite a story when you think about it.
Cactus Canyon has the double historical distinction of being the last Bally/Williams pinball machine, and the only one with an incomplete code. Ouch.
The original Cactus Canyon: fun and simple
Once said, what about the game itself? Of course, the goal here is not to review Cactus Canyon, but before talking about the Remake, it is necessary to say a few words about the game itself.
I was lucky enough to once own a Cactus Canyon (an original, of course) and this game is… fun.
Let's be clear: it doesn't really break the mold in terms of pure gameplay, but it is very fun. It's a lot of fun and that was the goal.
Let's remember that at that time, nobody collected pinball machines at home: they were all meant to be "on rent" in arcades and bars. And as such, the public preferred games that were easy to understand and where you could have fun without waiting (author's note: this is why another cult DMD from the 90s -Twilight Zone- took a long time to find its audience, because it was too complex for the time and for playing for 5 minutes in a noisy arcade).
In short, Cactus Canyon is a "light" pinball game, fun, with very nice toys that makes you forget a little bit about the shortcomings of the unfinished code.
Fan layout and toys galore
In terms of playfield, it is a fan layout (editor's note: a main toy and ramps around it), with clean and satisfying shots (fan layout obliges), and above all, some really nice toys like the gold mine which is used to block the balls and the head of the villain that you have to bash repeatedly. Not to mention the train that you have to stop before it runs over our girlfriend Polly. She is tied to the track in spite of herself. Pobrecita…
Yes, it's really fun with Cactus Canyon: the game is not "difficult" and a mediocre player like me gets to the wizard mode very quickly (and finally very often). This is the problem when you have it at home, apart from the "Collection" aspect I mean.
So that's why I sold it after a year in my gameroom: I'd been through it a hundred times more than once and I was craving something new.
Make no mistake: Cactus Canyon is NOT on the level of Twilight Zone, Indiana Jones or Attack from Mars, to name a few.
As you can see, if it is "exceptional" because of its rarity and the historical context in which it is set, it has clearly not marked the history of the game.
A commercial launch without interest but a pinball machine already 100% sold
All that being said and well said, it's time to talk about this "remake" version that we finally got to know.
What to say… What to say…
First of all, it was a useless launch. Not that it was a failure (the very principle of a marketing launch is to create the desire to buy and CGC sold out in a few hours, so congratulations are in order). By the way, these "flash sales" seem to be the new normal in the "small" pinball world these days… No matter what the pinball is, whether you've played it or not, whether you've seen it or not, you'll buy it blind… And at a high price at that!
The game of 7 errors between the remake and its model
Coming back to the Cactus Canyon, the first surprise is that the body is 100% identical to the original model. By this I mean that we can't see any tangible and fundamental difference as far as the "dressing" of the machine is concerned. It's a remake, you may say, it has to be identical to the original, so be it. Nevertheless, the first three remakes offered small variations of the bodywork that contributed to give this "exclusive / Limited" effect to the CGC remake models.
On the other hand, and here we are relieved, a certain number of "details" were added/improved on the playfield for our greatest visual happiness, starting with the detail which kills, according to me: the presence of the Cactus Canyon logo on the apron which is in relief (like a kitsch belt buckle).
And it looks great, because yes, the big belt buckle wears perfectly well in the Wild West, a little less in shopping malls, let's admit it…But let's move on, that's not the most important thing by far.
Also the two decorative guns are still present, better sculpted of course, which does not take anything away, on the contrary. They still make a very nice effect.
Improved toy and screen
Another detail that didn't escape me, former Cactus Canyon owner that I am, is that the railroad line (which is in fact the transverse ramp where the locomotive is located), looks like a railroad this time! And that's really great to immerse us even more in the small town of Cactus Canyon. Congratulations on this, because if the idea did not come from them, CGC at least had the merit to go to the end of the process and redesign this ramp. It really has the look & feel of a railroad. Well done.
A finalized code… But not immediately, and for a fee!
Let's get to the code now.
Because that's where the great trick is.
If the original code is not "finished", some animations are missing as well as the audio track at the very end of the game (nothing "serious" but let's be honest, the game is still played very well and there is a Wizard mode as mentioned above), we don't know for the moment if the code present in the remake version at the time of its release is the same or if it has finally been completed… We don't have the answer at the time of writing.
Yes, dear friends, welcome to the modern era of downloadable content for pinball!
If Stern clearly announced the color with its "connected" module (which is nothing else than a Trojan horse allowing in a very near future to sell DLC), Chicago Gaming Company goes straight to the point and without embellishment: they recruit the best coder in the history of pinball, make him work hard, and then they'll make us pay the bill and be able to repay their investment. Well done guys.
So when I talk about "trick", you'll understand me well: CGC has been preparing Cactus Canyon for 3 years, a very nice game whose Achilles heel is its unfinished and too simple code. As such, it seemed obvious to us that the remake would integrate from the start a finished and optimized code with new missions and others; So, to learn that you will not only have to wait for several months but also pay to enjoy it is a bit strong, don't you think?
A nice screen and a good but not great topper
Last but not least in the additions, but this time it's a given for CGC: the DMD screen is enlarged and in color, as on their three previous remakes. No surprise there at least.
We'll quickly talk about the topper which is rather nice and pretty, well in the atmosphere of the game, without being either revolutionary or ultra exciting. It's a pity, we were expecting more creativity on this topper which was promised to be a full-fledged shooting game. We probably dreamed too hard.
Finally, this pinball machine already beautiful originally is obviously sublimated here since the light show is at the height of what CGC knows how to do best. The means they use make their remakes eye-popping. Successful operation even if the said lightshow is less impressive at first sight than the one of Monster Bash, for example.
Feelings close to the original
As we couldn't go to Pinball Expo this year due to the fact that we were not allowed to go to the US at the time of the show, we unfortunately couldn't play this remake but everything we heard or read from here and there makes us say that the remake "plays the same" as the original.
This will not surprise owners of Chicago Gaming Company machines who know that the game "plays the same". I myself was able to play an Attack from Mars remake while I have an original Attack from Mars at home and indeed, I didn't feel any difference in the gameplay except very slightly in the "feel" of the flippers who are not Bally/Williams flippers. For the rest, nothing to say, it's very clean and it's beautiful.
A pinball on par with its predecessors
All in all, this Cactus Canyon remake seems to be just as good as the three previous CGC remakes, i.e. cult machines from the 90's perfectly redesigned and enhanced with modern technologies.
For anyone who wants a "new" mythical pinball machine, CGC is the place to go. Of course the object has neither the charm nor the pedigree of the age it doesn't have. It's an improved copy, but it has the merit of smelling like new and therefore deserves all our attention for this reason.
Let's wait for the final code of Lyman Sheats to make a final opinion on this Cactus Canyon Remake, the deal could change considerably depending on the effort he puts into this work…
In an ideal world where neither money nor space would be a problem, I would have my original Bally/Williams in a safe place for the collection aspect that is dear to me, and I would have the remakes in my playroom so that I could spend hours on them with my friends, without fear of wearing out the original "object".
Let's stop here for today, we can't wait to receive this Cactus Canyon remake and to give you a full test!