It's not easy to start in the world of flip! Often, the starting budget is quite tight. We don't want to spend (too much) money and we go for second hand, but here is the problem! Even if the former owner guarantees that everything is okay, "that it has been reviewed by a pro", you can quickly discover that this is not the case…
For the record, I fell in love with the flip a few years ago. Not long enough to have had the chance to own a Twilight Zone or a LOTR for a few hundred dollars when nobody wanted them at that time. However, more than a dozen flips passed through my gameroom. Notably classics that some people dream of having and that I obviously had to repair and maintain.
Between us, I must confess that I spend more time repairing / fixing / cleaning and maintaining my flips than playing them at times… It's only afterwards that I decide to play them and not touch their innards anymore. However, still in the confession, opening the beast scratches my itch again; that's when I buy a flip' to enjoy a few nights spent alone. All this to finally think that I would have been better off with a new flip'… or not !
In short, all this to say that I thought it was essential to introduce you to the tools (physical or virtual) that are essential to the maintenance of pinball machines when starting out.
This article is not intended for professionals, but simply for those who are new to flip'. Those who, like me, are passionate and are looking for tips and tricks or simply want to know a little more. Let's stay humble ! Like many, I learn every day and I want to share with you my discoveries which I hope you will find interesting.
Screwdrivers, Pliers… A first kit at low cost
Let's start with the toolbox of the perfect pinhead mechanic! The good news is that you don't need to invest hundreds of dollars to be operational. At the beginning, all you need is a few screwdrivers, a few pliers and a few wrenches to be able to dismantle the parts, change them or repair them.
Basically, to start with, you don't need to take too much trouble or to search on spare parts websites to find your happiness. On the other hand, you will need to have some parts in advance…
Now the first advice before placing an order; make a good tour of the flip and prepare a small list with all the pieces you will need. Wait a few days before placing the order, go back to the flip and be patient to make sure your list is complete. There are a lot of sites for spare parts, in France, Germany, England, Netherlands, USA, but each site will charge you a significant amount for shipping. We tell you this because 20 dollars of expenses when you order 5 dollars of parts, it hurts your wallet.
So you're ready ! To help you, here is a short list to get you started. The following images are for illustration purposes only and are not specific.
Inventory to repair your pinball machine
First of all, get a toolbox with at least 3 levels and a coin sorter on top. This last one is very useful when you start to have a lot of parts… before moving on to a more imposing storage such as the one on the right.
Let's make an inventory of the "simple" tools :
Set of flat and Phillips screwdrivers (small, medium and large sizes) for disassembling plastics, ramp entrances, and other parts screwed to the playfield;
Set of allen keys in European and US format. They will be mainly used to disassemble the beaters and to tighten them on the mechanics. Purchase them of good quality and long to tighten, especially since the mechanisms are not always easily accessible;
Set of wrenches to disassemble the US size legs ideally (but European also works) or a 5/8 and 9/16 jointed wrench;
Small set of pliers, to hold parts during assembly/disassembly, especially the hex spacers;
US size socket set ideally, but most sets contain both options;
Nut driver set in US size. With these, you tighten nuts and bolts, like with a screwdriver but with a different tip. Generally, their shafts are hollow to accommodate the one on which the nut is threaded. The low torque avoids over tightening the screws and nuts used to fix the mechanisms under the playfield or the decorations on it;
Set of "long" sockets. Unlike nut drivers, you apply more force when tightening. For example, some parts have rods that come out of one side of the tray and are attached to the bottom with nuts.
1/4″ magnetic wrench to prevent the screw from falling out when loosened
Contact adjustment tool. This tool is used to "twist" the copper parts so that the contacts do not touch each other permanently. The end of the tool has a slot to which you slide the copper strip. Then you twist it with small movements to move it away from the other blades.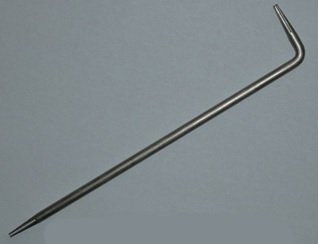 And it continues !
Magnetic tool to pick up small parts – quite handy when you have hands that don't fit in small spaces:
Small soldering iron (about 35 watts) and some soldering wire – this will help you to put back cables, change coils, change switches…
Light bulb extractor;
Cleaning files;
Flipper adjustment tools. They ensure that the drums don't rub on the board, which would cause accelerated wear.
And it's not over yet !
You will glean these accessories over time :
1 battery / 9V battery (to test the bulbs) ;
Alligator clips ;
Digital multimeter ;
Hammer;
Black electrical tape ;
Scissors / small knife / scalpel ;
Small cleaning brushes (nylon / brass / nickel) ;
Small level (bubble or electronic). Indispensable to check the inclination of the playfield at 6,5° or to compensate an uneven ground at the level of the feet of the pinball;
Glue (wood / super glue) ;
Cable ties ;
Molex and chip removal tools…
To conclude, you can put together a good starter kit quickly, but it can quickly become expensive if you want to have everything… and you end up with a nice full suitcase 🙂 but which is really useful in all cases.
You can also fall back on complete kits sold by some websites… but they really cost more than what you can find traditionally in the shops… It's up to you to see what your budget allows, knowing that in addition to all these tools, you will have to order the parts. It also comes down to a small budget over time… Most of the parts will be useful from one flip' to another – so don't worry if you order too many or have some storage boxes – you can find the parts when you need them !
To clean your pinball
Last but not least, you will also need tools to clean the tray, the plastics, or to polish your metal parts. That's right! Old machines are often found in cafés or breweries which, let's not forget, were smoking places at the time… Even decades later, you can still see and smell the stigma. Ahhh, the good smell of state cigarettes ;-). To get rid of it, there are specific products such as the Red Devil (to remove the dirt related to cigarettes).
For the cleaning of the tray and plastics, using Novus products gives good results. With 3 different levels of abrasion, they offer a solution for every problem. Be careful though, level 3 is the most abrasive. It can therefore damage a tray, and we advise you to use it to clean the plastics and remove any scratches that are present.
Also, get some fresh cloths for cleaning. Personally, we don't like to use cheap microfiber cloths. In the end they leave marks and lint that can get stuck in inaccessible parts of your playfield. Also, they fray when they touch metal parts, keeping dust and dirt that can damage some parts of your flip.
To clean and polish the tray, Wilmax or wax before polishing will do. The same goes for metal parts (ramps for example). Car polish is effective. You can apply it by rubbing or use brushes on an electric drill.
After that, some people will use real machines to polish (see example below from another pinball enthusiast), but not everyone has the space for that. I mainly use my cordless drill and elbow grease.
For cleaning, some people do not use specialized products, but directly go for degreasing products such as W5 from lidl for example. It has the advantage of being cheap for a very effective cleaning.
Once the cleaning is done, some trays may need to be polished to bring them back to their former glory. Here, a drill with special foam polishing heads (or even better, a polisher) and a specific product will allow you to make it like new. However, be careful not to use too much, as these products are abrasive and can damage your tray.
That's it! You now have the necessary materials to get started. But this is only one step !
In the next few articles we will discuss how to repair certain components, how to identify certain simple failures and how to avoid the hassle of a broken pinball machine so that you can get the most out of your beautiful machines.