What a day, and what an evening, friends…
I absolutely want, first and foremost and before any circumstantial diatribe, to thank from the bottom of my heart the Loose family for its invitation and its warm welcome last Saturday, January 22nd as part of a craaaaazy open day/evening!
Meet the Pinheads for real
Indeed, what a great moment of sharing and pinball. Meeting the friends of the pinball… You know, those that we are used to "cross" in the bend of a small Facebook post, Instagram or even on Tinder for some (yes, I see you…) but that fact is that we never see some, since we all live in the four corners of France. And it is, finally, rather complicated to "see" each other for real…
Well, this past Saturday at Planète Jeux Transcard (thanks again, Nas), we were able to repair the embarrassment and -at last- for some of us, including myself, meet our friends from the merciless and exciting world of pinball. A real treat.
I spent a delicious moment in your company and I was delighted with all these meetings. One last time before going to the Spanish side of the border: THANK YOU all for your good mood and your support ! (and I hope to see you next time).
A launch from France
Let's take the plane and go a little south of Varennes-sur-Allier, to our paella eating friends. In fact, no need, everything happens at Planète Jeux Transcards so we stay warm and we concentrate on this new little machine that the guys from Bitronic (the manufacturer) and Quetzall Pinball (the brand) have concocted for us.
First, a nice surprise, the pinball machine is standing on its own. Another surprise, and we're proud of it, it's us little Frenchies who have the honor to make this exclusive world premiere, and not the Americans "as usual": cock-a-doodle-doo!
Basketball, a relevant theme for a first pinball game
Finally about the table, last surprise, we are on a sport/basketball theme when the local hero Nadal could have been the subject of a Sport/Tennis theme dear to the Spanish, no? Why not? It's true that they love basketball too. Come on, it's not like we already have a lot of basketball pinball machines to choose from with Fast Break (Bally), Shaq Attaq (Gottlieb), NBA (Stern)…
Let's pass on the choice of the theme which, in reality, is not stupid at all for the simple and good reason that basketball (playground) allows the pinball playfield (other playground) a mimicry where the ball (or the silver ball) is king/queen #wokism.
My point is that pinball and basketball are a marriage of convenience, and even if it was a first time pinballer, Bitronic was certainly right to start this way.
I'll leave it to you to learn about the features and other nice game modes of SUPER HOOP (ah yes that's the name of the flip. HOOPS! #joke) a little further down in this article, and would rather share with you during these few lines my sincere feelings as a sincere amateur player, but as an absolute pinball enthusiast nevertheless.
To begin with, it is a question of saluting Bitronic's initiative, namely to launch the manufacture of a new machine, and to initiate the launch of a new brand of pinball machine, a European one at that.
It's not every day that a new manufacturer shows its face, so let's not sulk in our pleasure and receive, with the due honors, this new entrant in the big league.
Super Hoop : a transformed try… (oh f…, it's not the right sport)
Then the SUPER HOOP machine itself…
Voluntarily I will speak about the price only in a moment so that it does not distort the judgment, and I will spare you the clichés of the genre and go straight to the point, you who certainly have other things to do than read your servant:
Well SUPER HOOP is not bad at all… Really not bad at all.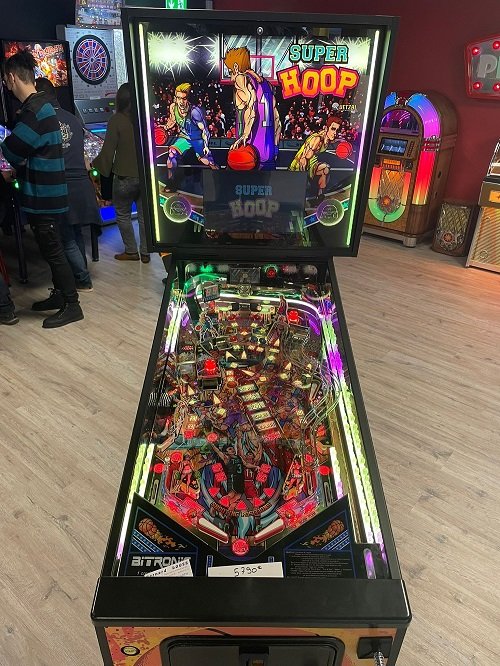 The flow is there, the ramps (in metal) are there, the combo shots (not simple) are also there… We are in the atmosphere of a basketball game like Captain Tsubasa in soccer, a little cartoonish… And the game even offers some innovations rather well seen of the like: upper slingshots controllable with the buttons to make passes in view of a shot at the basket (magnetized, hyper satisfactory).
Speaking of satisfying, the aforementioned combo shots, with a third right side flipper to the left ramp, are borderline enjoyable when you get there. Not easy but doable and very, very enjoyable when you pass the combo.
Honestly, this game has potential.
A decent price for a no-fuss machine
So yes, I see you coming with your big hooves old pinball haters. OK this is NOT a Stern. And so what?
I have some good news to calm you down: SUPER HOOP is not priced like a Stern either! HA!
Around $6,500 (excluding shipping costs and customs duties) ladies and gentlemen… What do we say now?
For this price you get a machine that plays well, very well indeed. Really nice and doesn't take your head off. And it won't take yours either, I guarantee it.
Nice first impression and I'll even make you a little confidence: at D+7 since the presentation, and while writing these lines, I want to play it again.
To tell you the truth, if a SUPER HOOP machine was near me right now, even with other "richer" tables next to it, I think I would really want to go play a few games on it and beat my score from last Saturday #lowscorepinballwizard
Let yourself be tempted, leave your prejudices outside the arena (if you have any, we never know…), take your place on the court and have a good time with this nice little table, which is really good if you want to give it a chance.
Bravo Bitronic for this first effort, objectively successful.
Features
Illuminated backglass with 15′ LCD screen
Illuminated and interactive rails
The upper part of the playfield includes:
An interactive basket target with a magnet (the magnet can catch the ball from the vertical upkicker under the hoop or from the ramp)
A real working shot clock, like in pro basketball games
Two controllable slingshots (under the small silver hands, rebound type)
6 games /modes
3pt contest: This game is to collect the 5 shooting positions, first hit the 3 point targets, then the basket to collect the positions. If you hit the target that flashes in 2 colors, it will increase your score. And if you do this 5 times, you will get the Jackpot.
Slam Dunk: Shoot 8 times on the 2 ramps. If completed in order, the player is rewarded with a Jackpot.
21: Score more than 21 points to win the game; Hit any target in the field to get points. Shoot the basket to add points to the score. If you hit the bank target that flashes in 2 colors, the score will be doubled or tripled.
Skills: Collect 4 skills to complete the game – Run & Gun, Pick & Roll, Assist, and Crossover. Shoot each skill twice. If you collect all 4 skills in order, you get a Jackpot. Shoot the basket or the left ramp to win the game.
Horse: Shoot the flashing light to collect 5 letters and win the game. If the game is completed in order (by shooting the flashing light in 2 colors), you get a Jackpot.
Super Stars: Make 8 shots to win the game. If it is completed in order, it is rewarded with a Jackpot.
Price, production, availability
Price : around $6,500 (excluding shipping and duties)
Production: 100 machines are currently manufactured and will be sent to distributors in Europe and the USA. The manufacturer Bitronic is currently preparing a second production of 300x units.
Availability in the US and Canada: NITRO PINBALL or FLIP N OUT PINBALL