American Pinball, pinball machine manufacturer since 2016
American Pinball was founded in 2016 by Dhaval Vasani to produce pinball machines. His first feat of arms is to get designer John Popadiuk out of trouble.
Popadiuk had bitten off more than he could chew when he tried to design and produce 3 pinball machines in parallel: Magic Girl, Alice in Wonderland and Retro Atomic Zombie Adventureland. The latter is trying to rise from the ashes in 2021 via deeproot pinball, a company that turned out to be a scam (still on trial).
Mr. Vasani proposes to Mr. Popadiuk to save the day, offering him the following deal: produce as a subcontractor the few Magic Girl pinball machines John had planned. In exchange, John helps design American Pinball's first pinball machine, which should have been Houdini: Master Mystery.
The Vasani family owns a factory in China and another in India. American Pinball's promise can be kept.
The Houdini miss
Unfortunately, the deal didn't go through. Popadiuk's Houdini is merely a "skin" of Magic Girl. By this we mean that the artwork changes, but the game mechanics and the placement of toys and ramps remain similar. The Magic Girl had been sold as an exclusive with only a few pieces. It would have been foolish to try to sell it as a clone on a larger scale. So the deal's off. On the other hand, Magic Girls are being produced and delivered to customers who have taken legal action. Customers of the other two pinball machines are still waiting for their pre-orders to be honored.
Dhaval Vasani doesn't give up, and now relies on established designer Joe Balcer to design its first pinball machine. Mind you, the manufacturer is making a clean sweep of the past, starting afresh to produce a machine that will have nothing to do with the disastrous adventure of the early days. The pinball machine will be called : Houdi Master of Mystery. To top it all off, they've dropped the colon and added a "of". We guess Dhaval is really into magic.
Joe Balcer does a creditable job on this pinball machine (78th on pinside). It goes on sale in December 2017.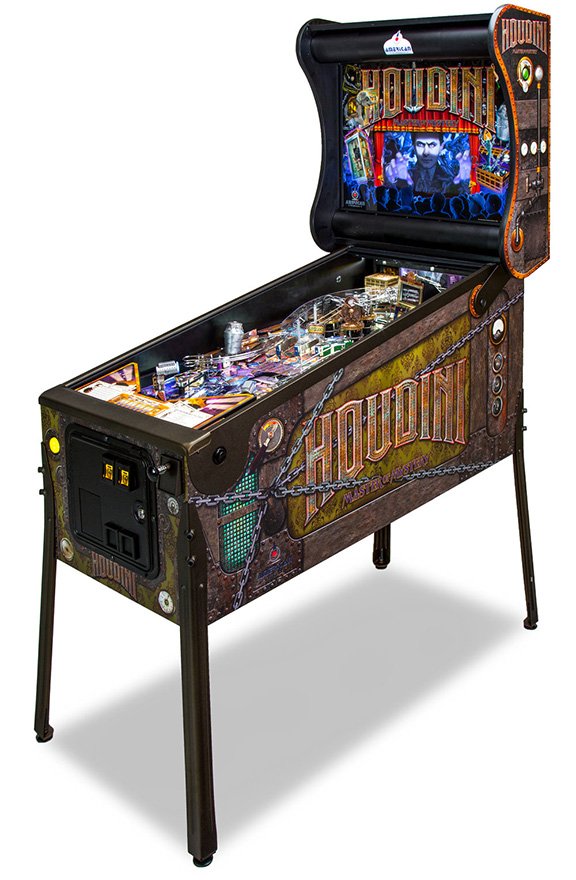 American Pinball: highly original themes!
In March 2019, American Pinball launches its second pinball game. I don't know what the team has been smoking (or drinking, rather), or if they've been looking for the most "floor-slapping" license for this second title… In any case, I wish I'd been a little mouse when someone suggested "what if we did a pinball on the Munich Oktoberfest?" and the rest of the audience said "but that's great! What's more, the license doesn't cost a thing! Next time we'll have a sausage party! An ocean of festive, culinary and inexpensive themes awaits us!"
Here too, Joe Balcer did a satisfactory job for the Oktoberfest game. He deserves credit for that, as many would have been… Intimidated?
Hot Wheels pinball
The next theme is once again original, with the little cars of our childhood: June 2020 sees the release of Hot Wheels pinball. We can say that American Pinball has found its cruising speed with this machine, even we deplored a lack of toys. A widespread evil lately.
Legends of Valhalla and Galactic Tank Force
In September 2021, American Pinball launches Legends of Valhalla. The pinball machine may not be a great success aesthetically, but the manufacturer continues to develop unlicensed pinball machines that go against the grain.
Galactic Tank Force is American Pinball's latest pinball machine, released in March 2023. The machine's originality is surprising, while its offbeat sense of humor is quite unusual in this sector.
American Pinball latest news