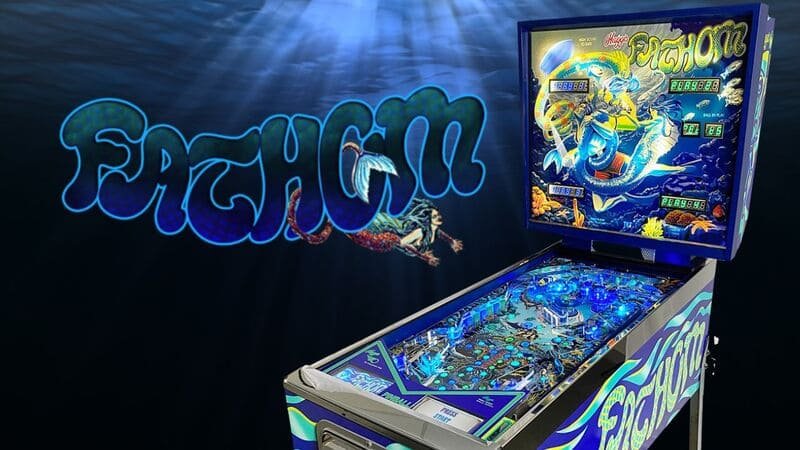 We've already listed the biggest pinball manufacturers in operation, and all those in Europe (including the UK). You can find them in our "pinball manufacturers" section. But the world tour is not complete, as there are many smaller players worth mentioning. Let's start with a review of other pinball manufacturers.
Haggis Pinball
The company is based in the suburbs of Melbourne, Australia. It was founded in 2018 by Damian Hartin, a jack-of-all-trades computer scientist and electronics engineer. For his first machine, Celts, he took charge of the bulk of the design. The pinball machine has no ramps or mini-platforms, but a more than respectable finish for a first try.
Celts goes on sale in April 2021, but the game was obviously ready at least a year before that. Damian must have taken all the crap a contractor can take during a pandemic.
As a result of this delayed launch, Haggis released his second machine, Fathom, the same month. The theme is a remake of a particularly elegant machine released by Bally in 1981. Damian remains credited with the mechanical parts of the pinball machine, but delegates the rest of the design.
With this second game, Haggis gained international respect, hardly marred by the production delays that all small-scale players experience.
Multimorphic
The beginnings of PinballControllers.com
Here's a company charting its course with determination and creativity!
In 2009, Gerry Stellenberg founded PinballControllers.com, dedicated to providing a control system for pinball machines. P-ROC was born, and will be used not only by home brew (prototype) designers, but also by the new generation of manufacturers such as American Pinball, Spooky Pinball and Haggis Pinball. In 2011, the team expands its range with additional components.
Generally speaking, manufacturers who have perpetuated their business then move on to their own systems. Nonetheless, P-ROC is used on Rick & Morty, Houdini, Oktoberfest and Total Nuclear Annihilation pinball machines, to name but a few. The system still sets the standard today.
The birth of Multimorphic
In 2012, PinballControllers.com became Multimorphic, and proposed nothing less than to revolutionize the pinball market. Gone are the days of single-theme machines! The P3 product is a modular machine, whose playfield background and artworks can be interchanged to play on other themes. The lower part of the playfield is an interactive screen, which adapts to the game and sequence in progress.
The customer buys an initial pinball machine at a price roughly equivalent to that of a conventional game, but can then acquire other modules for a much lower price. Somewhere between the traditional market and the vpin market, which is booming as the price of traditional machines rises.
Here's the list of tables available on this P3 platform, and produced by the manufacturer:
Lexy Lightspeed Escape From Earth released in 2017, as well as its add-on Secret Agent Showdown
Cannon Lagoon in the same year
Barnyard and ROCs, also in the same year, which are software programs compatible with all physical modules, with simplified game mechanics
Cosmic Cart Racing in 2018 and its Sorcerer's Apprentice add-on
Heist in March 2020
Shoot 'n Scoot in 2020, which works like Barnyard and ROCs
Final Resistance in March 2023, with design by Scott Danesi, the man behind Total Nucleal Annihilation.
But there's more to come! In addition to first-pary games, i.e. games designed by the manufacturer, Multimorphic accepts third parties on its platform, i.e. third parties who invent new modules for Multimorphic to market. Here they are:
Drained, the most successful initiative, as the game includes a board background
Pinball Foxtrot Rhythm Explosion, combining rhythm and pinball. Compatible with Cannon Lagoon
Ranger in the Ruins, compatible with Cosmic Cart Racing
Silver Falls, compatible with Heist
Grand Slam Racing, compatible with Cannon Lagoon
Hoopin' it Up, compatible with Lexy Lightspee
Most of these third parties have been designed by Nicholas Baldridge, a Home Brew creator who clearly enjoys experimenting.
A pinball machine that hosts modules which themselves offer variations? Let's be honest, this profusion of initiatives makes the offer rather confusing. But all innovations have gone through this messy phase, only to be structured willy-nilly later on.
In any case, with Final Resistance and its renowned designer, the P3 offering has acquired the appeal it lacked to change the game.
Homepin Taiwan Co
Australian Mike Kalinowski founded Homepin in 2013 in Shenzen, then relocated the company and factory to Taiwan in 2020. To his credit, the manufacturer has marketed 2 pinball machines:
Thunderbirds, released in 2018, is based on the TV series of the same name, produced and broadcast in the UK in the 1960s. The pinball machine is considered by the community to be the worst recent pinball machine, as evidenced by its rating on pinside (4.4/10). 154 units were produced.
This is Spinal Tap, their second machine, was released in April 2023. The launch video was particularly tasteless, and there's nothing to suggest at this stage that the game will be any better than its predecessor.
Fortunately for them, Homepin also produces electronic components for pinball machines and reproductions of arcade terminals.
Pinball Adventures
Andrew Mac Bain is not only a publisher of children's books, but also a pinball enthusiast. He has also published magazines on the subject. In 2018, he decided to produce a pinball machine that he commissioned from a third-party designer: Team Pinball.
Based on a personal concept (which is also the subject of a children's comic strip), Andrew orders The Punny Factory pinball machine from Team Pinball. It's an original theme (yeaaah!) about a factory that has just exploded and whose products need to be collected (*cough*). If the subject matter is controversial, the playfield looks neat and, a priori, more interesting to play than the first images suggest.
Even before releasing this first game, he commissioned another design from the same team: Elements, in which three heroes would have to battle the five elements (wood, water, fire… you get the idea). Punny Factory was announced for pre-order in April 2023, and Elements is to be presented at the Chicago Pinball Expo in October 2023.
Announcing two pinball machines in quick succession before actually delivering anything is never reassuring. We all remember John Popadiuk's wild promises in the 2010s, even though he was much more experienced than Andrew.
To realize that there's a methodological problem, I suggest you take a look at the Pinball Adventures website. There, you'll find barely sketched-out concepts for 5 other tables. What's even more surprising is that you can buy wacky accessories in the store, such as a little plastic system with a magnet to hold down a flipper button, or a reinforcing arm to prevent the playfield from falling on you when you lift it. If these initiatives breathe the love of pinball, they are eclectic to say the least.
In short, Andrew Mac Bain seems to be all over the place. And while his videos are very likeable, it's to be feared that he'll lose himself along the way.
Pawlowski Pinball
Orlando resident Adam Pawslowski started out with a laudable intention: to produce a low-cost pinball machine, at $1,800 + shipping. At this price, offering a decent machine is an almost insurmountable challenge, and the miracle is unlikely to happen. The products are still prototypes in this spring of 2023, but we can already share a few observations:
The machines are "light", so don't expect a classic pinball format. The box is shallower, the backbox lower. That's part of the deal for an affordable pinball machine, and there's nothing wrong with that.
The first alpha video of "Pinball Eternal" shows rough cut-outs and assembly, barely able to compete with a good home brew.
If quality is supposed to improve, then it's unwise to communicate on such a crude object.
The design choices are astonishing: why include an under playfield, which adds complexity and therefore expense, for an entry-level pinball machine? While this generosity may seem commendable at first glance, it comes at the expense of the main playfield, the emptiest I've ever seen.
The two themes presented are based on songs by Megadeth for one, and over a dozen metal bands for the other. The company doesn't have the rights to Megadeth, according to its website, which doesn't bode well.
Doubt hangs over "Pinbal Eternal". These are smaller bands, but more than a dozen names are mentioned. It would be surprising if the licenses had been granted. To be verified.
The pinball machine is clearly not finished, but Pawlowski is already working on a topper as high as the backbox. As with the previous manufacturer, the whole thing lacks a sense of priorities.
By the way, the price has already been re-evaluated at $2,600, again according to the website. Not surprising in these times of inflation (energy, materials… pretty much everything).
Not all these manufacturers will survive
We wish these manufacturers the best, but realistically, not all of them will make it past their first production run. It takes more than passion to run a business, even in the small world of pinball.
A production line, even for a few dozen units, requires industrial know-how. The same goes for sourcing components. As for distribution, a partnership with a trusted reseller is imperative when you're a new player. How can you make people want to play a machine that arouses suspicion because it's new, if it's not available in a showroom?