It seems that 2023 is and will remain the year in which ALL pinball makers will have graced us with their new models! There's no reason why Haggis Pinball, the young Australian manufacturer, shouldn't follow the rule. Their previous production, Fathom Revisited, was a hit with the community, revisiting a great Bally classic from the 80s. Now they're at it again, this time with another classic machine from the good old days: Bally's Centaur pinball machine.
So, is Haggis positioning himself well in the industry with these remakes, or is the idea a false one? We decipher this in this preview.
The best jams are made in the old jars!
So, for those of you new to the wonderful world of pinball machines, or who haven't had a chance to brush up on your classics, let's take a quick look back at the history of Centaur.
To sum up, this machine is released by Bally in 1981, which could be described as a work of art alongside other Bally classics of the '80s like Xenon or Fathom, so magnificent is its artwork and design.
But what was most shocking at the time (and may still be today) was the risk-taking in the theme on the one hand, and the colorimetry on the other.
How can I describe the Centaur theme to you… Imagine a clever mix of a post-apocalyptic world inspired by Mad Max, a creature from Greek mythology and a Bondage/SM universe…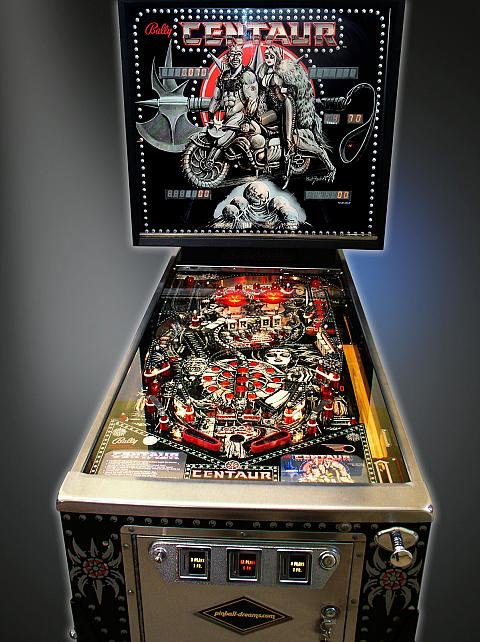 And to make it all even better, black and white are used almost exclusively on the entire artwork: body, playfield and backglass. And believe me, when you see this machine in real life, you're in for a real slap in the face, because the mix is perfectly balanced. Machines like these are a thing of the past, my good man!
So why choose a machine like this for a reissue?
We're not in the mind of Damian, the head of Haggis Pinball, but there are two obvious reasons:
Remakes are in vogue, and vintage is being revived in every field: films, clothes, music, TV series, video games and, of course, pop culture in general.
Pinball is no exception to the rule, since Chicago Gaming Company had already initiated the subject by reissuing Bally/Williams classics from the 90s (Monster Bash, Medieval Madness, Cactus Canyon…). As for Haggis, they tried their hand at it a year ago with Fathom Revisited, so why not continue?
And that's the second point. Haggis had received a rather lukewarm reception for their first model, Celts, but a much more cheerful reception for their second, the famous Fathom (if we put aside the bashing linked to manufacturing delays).
And for good reason: Fathom, Xenon and Centaur are classics of the genre, just as popular and adored as the Addams Family, Medieval Madness and other 90s pinball machines.
So why not make a name for yourself in a niche that's still untapped today? The re-release of 80s classics.
There will always be an audience for this kind of machine, as the theme and gameplay have already been tried and tested. So there's less risk involved.
And let's not deny ourselves the pleasure of seeing the fleet of original machines expanded by a few quality remakes!
Centaur revisited: an announcement in black and white…
As for the teasing of this machine, it's what has become the classic of the genre: you build up the hype on the networks by announcing new features, including a new machine, then you throw in a few images to get the ball rolling, and once the model has been announced, you throw in a good old-fashioned family video trailer!
Without being catastrophic, it's still not up to the level of what Jersey Jack Pinball can offer us, which remains the only manufacturer today to offer us video trailers truly worthy of the name.
Comparing like with like, Haggis being a "small" maker, we can already salute the effort of a more or less structured communication. The video, with the exception of a few shots filmed in a rather clumsy manner and some questionable music (an ersatz Rammstein in English which cruelly lacks originality and which, strangely enough, doesn't fit very well with the theme of the machine) remains globally correct and presents the two versions of the machine well.
…but a color revisited version
We're talking about a "revisited" version. So what's new compared to the original?
The presence of a "revisited" code in addition to the original. To see the differences, we'll have to wait for the first gameplay videos, which will be released shortly.
An obvious changeover of the entire lightshow to LEDs (historically filament bulbs), and RGB please!
Rule cards on the apron, replaced by two LCD screens. They allow you to navigate through the machine's menu. Historically, it was via a very limited menu, with the numbers on the score displays, all with the manual in your hands to know where you stood (nostalgia…).
High-quality audio system with 5 speakers to immerse you in the atmosphere.
Mirror effects on many of the visual elements of the cash desk and board
An interactive topper (for the visual aspect, it's up to you, but this generation of pinball machines didn't come with one in the first place!)
Neon lights under the box, like Paul Walker and his GTR in Fast And Furious!
A backglass with mirror and chrome effects, different from the original.
This is the "Beast Edition" version, followed by a premium version subtly named "Orblivion", which also adds :
The possibility of having the playfield and plastics in color rather than in black/white/red like the original model (each person can make up his or her own mind about the rendering, but without being too subjective, it breaks a little the visual rendering that gives this machine its charm).
A plasma-effect topper, more elaborate than that of the previous version
New callouts
An additional multiball mode
Mirror-effect side blades
Internal art blades
Original Sound Track on Vinyl
Custom airbrushed helmet and biker jacket (why not?)
All in all, they've done a fine job of restoring this model to its former glory, even if some will find it "too much" and prefer a classic version that's closer to the original.
As the saying goes: there's something for everyone!
Centaur Revisited : price and shipments
250 models for the Beast version and 50 for the Orblivion version, i.e. 300 machines for the entire world pinball scene. Suffice to say, you'll have to play hard to get!
Talking about price and availability, Haggis announces :
A$25,000 for the Orblivion version (around €15,000) with a deposit of $3,000 (excluding customs and shipping costs)
A$15,000 for the Beast version (approx. €9,000) with a down payment of $2,000.
At the time of writing, both models are still available for reservation.
As for the date of the first shipments, a manufacturer's FAQ announces that shipments will start in January 2024, starting with the Orblivion version, then games ordered by distributors, and finally the Beast version. Within each of these runs, the first orders will be served first. Production is scheduled to be completed by March 2025.
Enthusiastic or not ?
It's hard not to be pleased by the release of a remake of such an iconic model! And even if the discovery will be lighter than with an original production, we too would love to get our hands on this reissue.
As for Haggis' positioning on reissues of '80s classics (although there's nothing to indicate that's all they'll be doing), it's rather a good thing, and so far the two models they're targeting are clearly well chosen!
We'll be following all this with great interest over the coming months, and wish Haggis all the best for the production launch.