Cock-a-doodle-doo! Your favorite magazine can now boast that it has been in the secret of the gods for over a year now when it comes to the creation of a French pinball machine from scratch (with the ambition of mass production). We're even happier to be able to talk freely about Space Hunt and share our feelings with you after our first "real" contact with the beast!
After a reveal, a preview and 2 podcasts with the members of Hexa Pinball, it was during the weekend of June 10/11, 2023, at the Pontacq Pinball Show, that the machine was made available to the public for the very first time for a "Location Test".
By this we mean that the version on display was not the final version, but a highly accomplished prototype. It was playable, and it was already possible to form an opinion about the pinball machine's potential, Hexa Pinball's ambitions and, of course, the quality of the product as it stood: game design, sound, artworks and design.
This test is therefore based on an unfinished version. It will evolve once the final version is available, by the end of 2023.
In France, we also make pinball machines!
We don't just make croissants and wine! In the 70s and 90s, France was one of the countries with the most pinball machines in Europe, and many operators equipped even the smallest village bar with one or more machines. This left an indelible mark on the pop culture landscape. Today, these machines are still a hit with all generations.
There's a reason why the French pinball community is so active and determined to get things moving. And when it comes to making things happen, the boys and girls at Hexa Pinball haven't been shy!
So, what exactly is Hexa Pinball?
Well, Hexa is a company based in Bordeaux, founded by Alexandre and Christophe around a collective of a dozen talented enthusiasts, each specializing in a particular trade (developer, carpenter, electronics engineer, boilermaker, designer, graphic artist, etc.) with a common goal: to create a 100% French pinball machine.
It's worth noting that many of the members are scattered all over France, hence the name "Hexa", standing for "hexagon", the shape of the country.
A pinball machine, to bring them all together, and in passion, to bind them…
This very first pinball machine is built around an original theme, without any licensing. It is, however, based on a homebrew imagined by Luis, now Game & Art Designer at Hexa Pinball.
Luis had imagined the first version. He now has free rein to develop this universe with the help of a complete team, whose task is to transpose his ideas onto a machine that will be ready for mass production.
A machine made with love…
Let's talk about the machine itself and its appearance, since the first contact is obviously visual.
Let's be honest, this is probably where Hexa scores the most points: The machine is magnificent and has an exemplary finish, in line with Spooky Pinball productions. In fact, the brand makes no secret of its attachment to the Benton-based firm, whose productions and, above all, philosophy it admires: solid machines, with different versions whose options are purely visual, without any concessions to gameplay, and all with quality materials.
And in this respect, they have nothing to envy. The model here was close to the "elegance" version (the premium version, as it were). It offers :
an absolutely superb screen-printed backglass (even if it's impossible to reproduce the mirror effect in photos, unfortunately)
an armor kit painted in a brilliant burgundy to great effect
a speaker panel cover, speaker covers with the letters "S" and "H
side arts
a Pinsound sound kit with shaker
even speaker panels engraved with the machine's name!
The box and the playfield are made of birch plywood (12mm for the playfield, 18mm for the box). All handrails and guides are stainless steel and custom-made. The LEDs are all RGB, and the mechanics are based on Bally/Williams type parts to offer a machine that's both robust and reliable (with an "old school" ball feel).
Dedicated fans, produced by GM Parts, equip the main coils, and the playfield is printed and varnished by Nico of Pinmodzshop with the help of Franck Niro (2Niro).
The electronics are built around cards fitted with through-hole components, thanks to the talented Romain (an electronics engineer who worked on Team Pinball's Mafia pinball machine and at Heighway Pinball), and the system runs on a compact mini-computer housed in the front panel.
It's worth pointing out that this model worked relentlessly throughout the entire show (i.e. two days of intensive use) without ever flinching! And believe me, we weren't always kind to it…
As for the overall artwork, it's rather surprising, given the machine's annoying tendency to look better in person than in photos. This is due in particular to the choice of colors (predominantly pink, in case you hadn't noticed…) and to the many details drawn in gradations of color. This is difficult to reproduce in the image, and requires you to look carefully at the playfield, backglass or box to appreciate the finesse of the design. You'll appreciate the many details and Luis's fine pencil strokes. Apparently, there are even hidden easter eggs :)!
Code and rules : work in progress
The version offered in this location test was fully playable, with its wizard mode, multiballs and several missions that were already giving you a hard time. But the team confirmed that only 40% of the game had been implemented. A further 30% is already complete, but still needs to be debugged. The team therefore didn't take the risk of implementing it for this reveal, to avoid the disappointing effect and the bashing that would have followed, understandably… (The last remaining 30% are currently under development).
So it's hard to get a definitive idea of the game's depth at this stage of development, but from what we've been able to test and experience :
Flow is good, and the game is fast and responsive.
Trajectories are precise, and you need to get to grips with the machine in order to hit your shots. First attempts are often misleading, and the ball will tend to hit ramp entrances or studs several times before going where you want it to.
All shots to the lanes or ramps can be executed using traditional or backend shooting (although for some we had to ask the game designer for a demo, as some trajectories seemed so improbable).
The upper playfield is accessed via a dedicated ramp and is played quickly with a mini flipper, around a hole in which is located a pendulum in the form of a tilt pellet. You'll need to touch it (or not) depending on the mission to be carried out.
There were 4 missions on this version (excluding wizard mode), all varied and well thought-out. Special mention should be made of the "Sniper" mission, in which you have to send your ball into a charger to simulate the reloading of your rifle. Then you have to shoot at the targets that light up and fade away on the board, following the movements of an on-screen crosshair, just like in a shooting video game.
Legibility on the playfield is generally good, both in terms of the lightshow (which generally offers you several shooting options to launch or execute a mission) and the placement of elements on the board.
A slight downside, however, is the very busy background, particularly above the bumpers, which sometimes forces you to look for your ball, as several elements, including a kicker, cause it to waltz around without necessarily being easy to follow.
Beyond that, the biggest current shortcoming is obviously the rest of the code, which we're eagerly awaiting. It's currently too light to imagine competing with rival productions.
But don't worry, all this will be fleshed out over time, and several game mechanics have already been shared with us by the Hexa Pinball team. We won't mention them here until the final version is available.
Space Hunt : an electro style soundtrack
When you press the start button, the soundtrack for this Space Hunt is once again inspired by Spooky Pinball's Total Nuclear Anihilation. A simple, nervous rhythm in an old-fashioned electro style that makes you want to take on the machine!
And that's exactly the point: to get you right into the mood, just long enough to trigger your missions. Each mission has a soundtrack to match the intensity of its execution.
Select the mission "Fight" and you'll have the typical music of a video game boss fight, select "Spy" and you'll have a much more laid-back, subdued rhythm. Simple, logical, but effective.
We'd also like to highlight the quality of the compositions, all created by Hervé, Sound Designer, who was delighted to be able to create the music he wanted without any constraints, thanks to an original, unlicensed theme.
As for the call-outs, they're as violent and badass as those in a video game like Duke Nukem or Unreal Tournament!
The only fly in the ointment: this version featured a perfectible mix. The voices unfortunately tended to be much louder than the music, spoiling the soundtrack. But the designers have told us that they are already at work on correcting this flaw.
High-quality on-screen animations
While the quality of animation sometimes takes a back seat on many productions, whether from major manufacturers or more modest ones, here again Hexa wanted to make its mark!
And while the overall score animation is fairly classic in its visual rendering (a sort of retro-futuristic "Tron"-style background), the mission animations are rather polished. Interactions are legion, and animations react dynamically to the different shots you make on the playfield.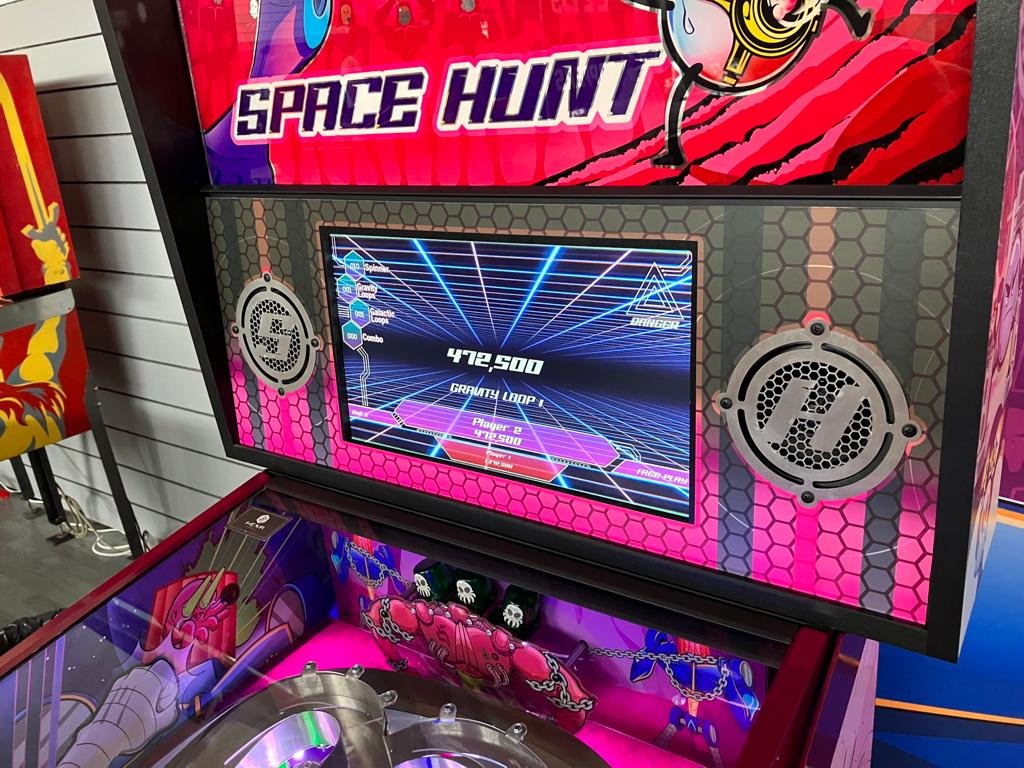 Miss an orbit in the "Fight" mission and the boss will dodge your blow on screen, taunting you. Succeed and enjoy the satisfaction of smacking him in the face!
The characters are well crafted, and the animations have no trouble drawing us into the Space Hunt universe. And that's just what we've come to expect from this kind of feature!
The disadvantage of being an outsider in the midst of an already well-established ecosystem is that you have to stand out from the crowd to make your mark. The advantage is that it forces you to innovate!
And in this respect, Hexa was able to count on a number of team members who were not originally from the pinball world. So they were able to bring a fresh (dare I say "candid"?) perspective to our hobby. And they've graced us with a few more than welcome innovations.
First of all, the pause menu. Yes, surprising as it may seem, Space Hunt is equipped with a pause function (!). As simple in use as in design. All it takes is a few seconds on the Start button. The "pause" menu appears on the screen. This freezes your score, the inserts and the mission in progress, with the ball completing its run between the beaters.
On resumption, the ball is automatically redistributed and the game resumes where you left off.
Simple but devilishly effective when you get a phone call from your boss just as you're about to exceed your previous High Score!
The second new feature is the availability (on Android and iOS) of a dedicated application. This will be linked to your machine (since it has a web connection) and will enable you to access the menu service to test every element of your pinball machine from your smartphone, adjust the sound, change the game configuration and so on.
A damn good idea, yet so logical in the age of "everything connected". When we interviewed the designers, they told us that they intend to develop the application over time, to include an online scoring function, a best players leaderboard and much more…
To be competitive, yes. Sell out, no.
The prices had already been communicated by Nick_O in his preview, and have been the talk of the town ever since Hexa made them public two weeks ago. Even our North American friends have had their say, as the euro-dollar conversion is (for once) not in their favor.
Many potential French buyers found the price a little high for the first model from a new manufacturer.
When we first contacted Hexa a year and a half ago, this was one of our first questions. Our answer was "we absolutely want to be cheaper than a Pro Stern model in France".
The classic model is offered at 8900€, compared with 9700€ for a Pro Stern model at the time of writing. Admittedly, the difference may not be all that significant, but everything can be justified and, above all, everything has to be paid for:
Hexa doesn't have the same production lines as the big manufacturers.
They play on the quality of the materials used, with noble materials in the tradition of Spooky Pinball or Dutch Pinball.
They have to finance R&D and the entire design of the elements specific to their model (metal railings, screen-printed backglass, etc.).
Production takes place entirely in France, so the cost of materials and production salaries are higher.
So they had to make a pricing choice without making any concessions on the quality of the machine, a pitfall that has unfortunately been all too common with several new players launching their businesses.
So, good idea or bad idea ? Only time will tell.
So, what about this Space Hunt pinball machine? A success?
Let's be honest, it's still too early to say. While the quality of the machine and its design clearly impressed us, the code (though very promising) prevents us from reaching a final verdict, because that's where Hexa is now awaited: the final gameplay.
In our opinion, this first baptism was a success. It reassured all the gamers present this weekend of Hexa's seriousness and their ambitions to deliver a product of equivalent quality to American productions. What remains to be done is to reassure players of the depth of a game that will satisfy the most demanding players without frustrating the most casual.
And do you know what? We're convinced they're going to succeed!
Editor's note: We're deliberately not giving this review a Pinballoscore, as the version on offer was a prototype. Our definitive opinion will be updated as soon as the final code and first machines are delivered, by the end of the year.