Spain has had great pinball years, with national manufacturers. As everywhere around the globe, after a big decade of slump, the craze is picking up.
We talked with David, who organizes, thanks to the association A.R.C.A.D.E., the biggest pinball tournament in Barcelona.
Hello David, first of all, can you introduce yourself?
Although I now live in Badalona, I was born in Barcelona, in the district of Poble Nou, an area that in the 90's changed from a working class district to an Olympic district. Many factories and premises were left empty and became music bars, pubs and discos where there was always an arcade or pinball machine that I enjoyed when I was young.
We also went to arcades with friends when we were teenagers. As a kid, I played pinball machines when my dad and uncle went to the arcade to play pool. I was always curious about these machines with their little lights. I remember that in many bars there was a machine to play with when I was a kid.
I work in the automotive world. I manage mechanical workshops, so electromechanics fascinates me. In 2014, the desire to recapture the feeling of the arcades of the past returned.
I bought a crappy Bally's pinball machine. I became obsessed with learning how it worked. And I started to restore it completely. Through this project I met many people and associations. That's how I became a member of the association A.R.C.A.D.E.
You are a member of the association A.R.C.A.D.E., can you describe what it is about?
The association will be eight years old in June 2022. Its objective is to restore, preserve and disseminate the culture of the arcades, the ones we grew up with in the 70s, 80s and 90s. We are dedicated to the preservation of everything related to the Spanish arcade: magazines, flyers, manuals and even hardware. All these works are available to the public at www.recreativas.org.
We have premises of about 600 square meters in Cornellá de Llobregat, a suburb of Barcelona. The site is the headquarters, the meeting point of the members and the place where our collection of more than 70 pinball machines and 90 arcades of all sizes and eras is located.
How many members are there in the association?
We are currently 110 members. At the moment, we want to be at 125 but not exceed this number.
We heard that you are planning a big tournament during a weekend. When and where exactly?
On the weekend of April 30 and May 1, 2022, "La Nau", the association's premises, will host this tournament. In addition, on Friday 29th, we will warm up with a Frenzy evening.
What machines will the competitors play on?
It will be a double tournament of classic and modern pinball. Sunday will be rounded out with several mini-tournaments. Almost the entire history of pinball will be represented, from Gottlieb's 1965 "Paradise" to the latest Stern releases like "Rush", "Godzilla" and "The Mandalorian," as well as machines from all eras and themes.
Peux-tu expliquer les règles du tournoi ?
The machines will be played 1 against 1. The choice of machines and opponents will be random. Groups of players will be created and will compete in a league on Saturday. The winners of each group will qualify for the quarter finals, which will be played on Sunday. This will be followed by the semi-finals and the grand final.
Will there be prizes?
The first four in each category will receive a trophy. In addition to the trophy, the winners of each category will receive a check redeemable in the store of pinballproject.es. Finally, the winner of the modern category will receive a translite offered by Stern Pinball. Both champions will be automatically registered in TBAP2023.
This year we introduce the category "TBAP CHAMPION 2022", which will be the player who wins the most games. Attention: this person will receive a pinball machine as a gift.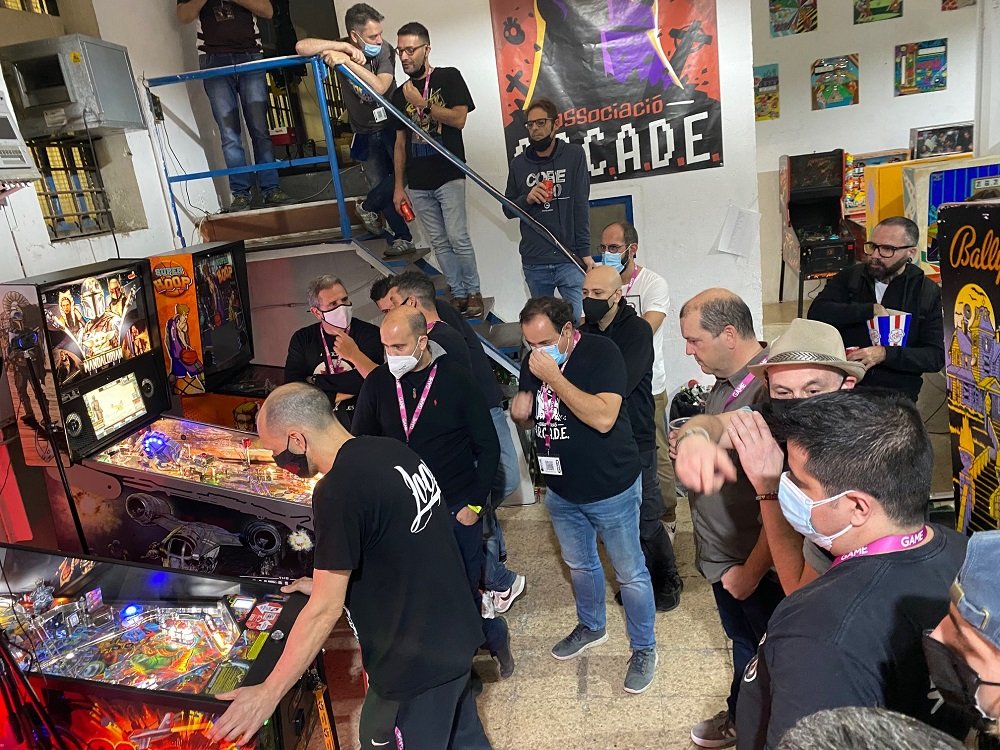 We will also organize a charity tournament. The proceeds will be donated to the association APRENEM. This association aims to assert the rights of autistic children and fights for them to receive adequate care. The person with the highest score at the end of the tournament will win a prize of local Catalan gastronomic products.
Is it too late to register? What are the registration fees?
Registration is now closed. The price to participate in the TBAP 2022 is 65€, which includes the participation and a commemorative T-shirt.
Does the tournament count for the IFPA ranking?
All the tournaments we organize count for the IFPA and the ESPCS, the Spanish Champions Series.
How many competitors are you expecting and where are they coming from?
We expect about 60 players from different regions of Spain, including the best national and international players. We will also have the presence of Italian and Finnish players.
Have you ever organized this type of event?
Every month we hold a Saturday tournament as part of the Stern Army (a league of tournaments federated by the manufacturer Stern Pinball, in partnership with the International Pinball Association). These tournaments have proven to be very successful. They are less expensive and attract both domestic and foreign participants. Often participants take advantage of a business trip or vacation in Barcelona to spend a day playing with us. These are tournaments with trophies and the score counts for the IFPA. If you are in the area, don't hesitate to sign up.
The tournament in Barcelona, TBAP 2022, reaches its 3rd edition. You can follow it live streaming on Twitch.
For our non-Spanish audience, we have a few questions about how Spanish pinball players live their "pinball experience". First of all, are there many arcade bars in Spain?
In fact, there are few bars with machines. The most common is to play in clubs and associations. But it seems that more and more bars are eager to install arcade machines in their premises. There are also some bowling alleys with pinball machines, shopping centers, some arcades on the coast… In Madrid, there is a lot of activity. Maybe the vintage trend can make us conquer the streets again. For the moment, it is the associations and some private collections that concentrate the most activity.
Can you name the most famous places in Spain?
As a bar, there is a very good one in Madrid and Bilbao called Rockade. There are also bowling alleys like New Park that have good machines.
In almost every region there is an association or private club. At https://petacos.forumcommunity.net/, the whole community is together. And from what we see there, there are more and more tournaments. The hobby is growing!
In the United States, the pinball market is booming, is it the same for you?
It's exactly the same thing. There is a speculative bubble going on. They are increasing and tripling in value for the last 7 years. This shows us that it is very fashionable. Their prices have really gone up and they are very popular. Collectors who started 20 years ago are very surprised. Pinball machines have gone from being machines that no one wanted, even for spare parts, to being things that everyone does business with.
The "Super Hoop" pinball machine is 100% Spanish… How was this news received in Spain?
The news was received with great enthusiasm because Spain, in the 70s, was a world superpower manufacturing pinball machines. At that time we called them "million dollar machines". I hope this will mean a resurgence of manufacturers from all over the world, including Spain, and that there will be more and more new quality machines.
Have you tried it? What do you think of it?
I have played it and I like it very much. There is a machine from the 80's, "Canasta 86", which also has a basketball theme and is very important to the Spanish community. In every bar there was one. You could say that "Super Hoop" is the heir of it.
What are your "pinball plans" for the future?
My plans for the future are to continue collaborating every day. I want to continue to learn how to restore machines and bring them back to life. I like to collaborate with everything arcade.cat does, whether it's organizing events or tournaments to grow the pinball hobby.
I also want to continue to visit and photograph arcades around the world, as well as attend European pinball tournaments, just to experience the hobby. You can see photos from my travels on my Instagram account @peguera2983.
Thanks David, do you have anything to add?
I would like to thank Pinball Mag. for this initiative and your project dedicated to growing the global pinball community. It's great to see how you create synergies, content and good vibes with pinball players all over the world! Thank you very much and good luck to all of you!