He is a major player on the world pinball scene, his streams, his playing talent and good humor are his trademark. It is with great pride that we have the honor to interview the pinhead streamer Jack danger aka Deadflip for the launch of our digital magazine !
Hello Jack, we first contacted each other in August 2020 for an interview project for Pinball Mag. You immediately accepted our proposal for our greatest joy. After a few weeks of work we're finally there. Thanks again because for many here you are one of the most famous and most watched players on the net. Are you ready ?
I'm never ready !
Let's go !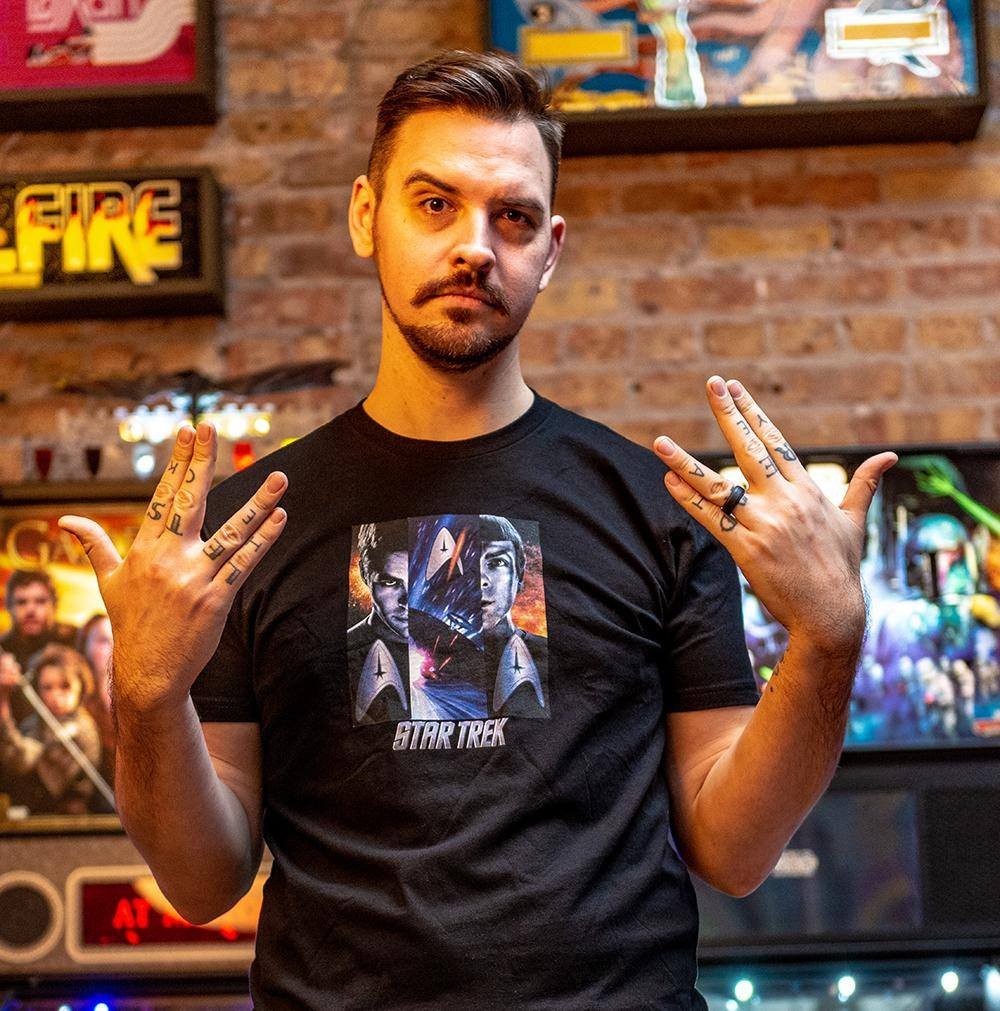 What's your first memory with a pinball machine ?
A friend of mine bought a Lord of the Rings machine (this was about 8 years ago), and needed to store it at my studio. At the time, pinball wasn't even a thought in my mind. It was all downhill after that.
Usually between our first memory of playing pinball and our willingness to play it again there are a few years in between. What happened to you during that time ?
I've actually only been into pinball for 8 years now ! I can't even remember what life was like before it ! Ha!
At what point did you think you wanted to make it more than a hobby ?
I was an animator for almost 18 years, and got in contact with a new pinball company (Jersey Jack Pinball) and I helped them with Wizard of Oz! My pal Nick and I did the Wicked Witch animations, and I designed the look of their back-end menu system. I also helped JPOP with Magic Girl for a bit. The whole streaming thing started as just a way to record ourselves playing so I could see where I was messing up, in order to get better !
How did you go from a passion to a job ?
The life of an animator is interesting, the hours can be pretty brutal. My twitch streams were starting to gain traction, and just decided to take the plunge, and go fulltime streamer. It was a veeeeery rough transition but I stuck it out, and here we are!
You are currently working for Stern, how did you get noticed and how was your first encounter with the company?
I work WITH Stern, not for them. Big difference. I am Stern's acting Ambassador, but I also get to play nice with ALL manufacturers ! The way I got hooked up with Stern was being in the right place at the right time. The Walking Dead was just announced, and I was at Pinball Expo here in Chicago, looking for games to stream. Jody from Stern came through a door I was in front of, struggling with a banner. I helped him, and he recognized who I was and asked if I wanted to stream The Walking Dead launch party. OBVIOUSLY I said yes, and "new game reveal" streams were born !
Is working with Stern cool ?
The relationship Stern and I have is amazing. The things I get to do, see, have say in, as a pinball fan… it's a dream job! Being able to chat with folks like Gary Stern, George Gomez, the designers/coders/engineers casually around the building is an honor.
Were you known in the pinball world before or after you met Stern ?
DeadFlip had a pretty decent presence in the pinball world before we got hooked up with Stern. Even before streaming, Deadflip was a pinball crew known for our play around the city !
What is your involvement with Stern? Do you have an opinion on projects, new releases ?
I work as Stern's Ambassador. One of the faces of the company. My only real duties for Stern is to stream, get new folks into the hobby, and keep pinball fun. I personally don't care to give my opinions on games because the people making them have been doing it a LOT longer than I have. Anything I might have a say in, is stuff on social media or events we'll do for games.
What does a meeting look like during the development of a pinball machine ?
You'll have to ask Gary. 😀
Does Stern give you complete freedom to play and promote other brands of pinball machines ?
My job in pinball is to promote it, make it grow, and make it fun, by whatever means necessary! My value to Stern is that I'm unbiased and love ALL pinball !
Do you participate in competitions in the USA ?
I used to compete a LOT, but since streaming has become my fulltime job, I've had little time to compete. Now the only real tournament I'll play in is ReplayFX once a year.
What is the interest for you to participate ?
Pinball is a social game. Nothing beats a 4-player game, in a bar, some beers and some laughs.
Who is your favorite pinball player and why ? Your answer is important because if she agrees it will be the next Pinball Mag interview 🙂
Me obviously haha ! In all seriousness, keep an eye on my bud Emily Cosson from Australia. She's been killing it, and is showing no signs of slowing down !
Pinball is a male-dominated world and women are excellent pinball players. How do you think the community can make women's participation more accessible and visible ?
I think the ladies are doing an amazing job with the Belle's and Chimes chapters all around the world. They created an awesome network for bringing in new players, and making a safe space for them to feel comfortable to play and practice.
Without any tongue in cheek, what is your favorite pinball machine and why ?
I've gone through a LOT of favorite pinball machines over the years, but currently it's Deadpool. Something about the approachability of that game, the fun shots, humor, art, rules… it's just a complete, fun package !
And the worst pinball machine

?
Woof. It's hard to name a "WORST" machine, because at the end of the day, any pinball is great. We used to have a Data East Simpsons at my old studio years ago that I couldn't stand, but the game was pretty beat up.
What would be the pinball machine of your dreams ?
I think the pinball machine of my dreams would be any game that a company would let ME design. <3
This year you came to France to play with the French RB Flip streamers, how did you know about them ?
Rudy is my son. Shhh.
Did you enjoy your stay in France and do you plan to come back soon ?
France was incredible. The RB FLIP crew showed me an amazing time. Sadly I didn't have enough time out there so I HAVE to come back once it's safe to do so. Your French pizza is delicious. Haha
You are known for your streams, how did you get the idea to expose yourself on the net ?
One of the animators in my studio turned me on to Twitch and thought it would be cool to show off pinball since it wasn't really a big thing on the platform.
Do you think that pinball is in full expansion today? If yes, how do you explain this ?
I think pinball is in a very healthy place, and growing every day. There is just something about playing "physical" games that can't be replicated, so pinball will always be around. I feel the new themes companies are using, and broadcasts like mine, are exposing new folks to pinball machines, helping our numbers grow !
You recently participated in a new format to promote pinball with the STERN HEADS-UP PINBALL INVITATIONAL event. We, at Pinball Mag., thought it was great! Who came up with the idea and how did it get organized ?
Thanks ! That was an awesome team effort from a lot of folks coming together to try and make the most "Esports" pinball broadcast we could !
Is it an experience you want to repeat or a one shot ?
We have plans to do a lot more, so get ready! We won't stop until ESPN gives us some airtime! Haha
What do you think the pinball machine of tomorrow will look like, both in terms of machines and development ?
I think the games are just going to utilize more technologies as they become cheaper to produce. Transparent LCD screens, better magnet usage, more complex mechs. But it still has to be a ball, with some flippers, hitting stuff.
What are your plans for the future ?
Trying to get Elon Musk to shoot a pinball machine out into space. I'll let you know what he says. Aside from that, just keep your eyes on social media. I have a lot of things cooking, but to hint at anything would spoil the surprise !
Thank you very much for this interview and keep us informed about your next projects !
https://www.twitch.tv/deadflip
https://www.youtube.com/channel/UC2r-cdMGgmKrVkQ-xjOBfnA
https://www.instagram.com/deadflip/