You certainly didn't expect it, so here it is – THE answer to THE question you NEVER asked yourself (and yes, that's how we are at Pinball Mag.!): what are the best-selling pinball machines of all time? Which machines have been the most popular in the history of pinball?
Get set, ready, go! You'll might see that some of the machines in the upcoming list surprise you. If you think that Lord of the Rings, or any other successful machine in the last 20 years and appreciated by pinheads (made by Stern, JJP etc…) and produced by the ton have surely been successful, well you are wrong!
The 20 years of glory for pinball
The vast majority of the best-selling pinball machines of all time have been between the 1975 and 1995, twenty years in which pinball went through a boom, a bust, another boom, and another bust.
Boom times are the times when many companies start making games, and bust times are the times when they go bankrupt. Classic, you may say… The pinball industry is obviously not an exception to this immutable rule.
Top 12 best-selling pinballs !
The TOP 12 of the biggest commercial successes in the history of pinball, a bit like the "box office" of pinball, here it is:
Addams Family (production: 20,270 units, plus an additional 1,000 "Gold Editions" later in 1992 to celebrate the sales record)
Eight Ball (20,230, in 1977)
Flash (19,505, in 1979)
Playboy (18,250, in 1978)
Firepower (17 410, in 1980)
High Speed (17 080, in 1986)
KISS (17 000, in 1979)
Star Trek (16 842, in 1979)
Mata Hari (16 260, in 1978)
Captain Fantastic and the Dirt Brown Cowboy (16 155, in 1976)
Twilight Zone (15 235, in 1993)
Terminator 2: Judgement Day (15 202, in 1991)
Why "TOP 12", I hear you say with my Avengers ears? Well, simply because it is the list – complete and exhaustive – of ALL the pinball machines whose production has exceeded the mark of 15,000.
This is the best of the best. These are the most popular sold pinball machines since the beginning of pinball history, so popular in fact that they were ordered in droves for the bars and arcades of the time. Real hits. And for many of them, if not all in this list, pure masterpieces.
"Best-selling Pinball": title held for 15 years by Eight Ball, then by Addams Family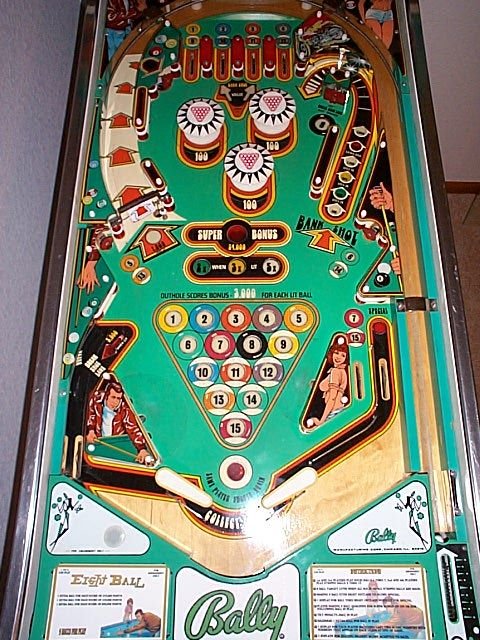 So for a long time, Eight Ball was the all time champion, until Pat Lawlor's Addams Family dethroned him at the beginning of the 90's boom.
You can see that the majority of these pinball machines came out in the late 70's, when pinball went from EM (electromechanical pinball machines) to Solid State (pinball machines with digital screens). Digital screens (plus the advent of giant arcades) were a huge factor in driving pinball sales to figures far beyond anything that had existed before for individual machines.
It should also be noted that only three pinball machines from the mythical Dot era (Dot Matrix Display [DMD]) are included in this historical ranking (Addams Family, Twilight Zone and Terminator 2).
Finally, no pinball machine created since Twilight Zone in 1993 has ever reached 15,000 sales, and it is unlikely that this will change anytime soon…
Let's review in 30 years to see what has changed or if this list still holds well.