In addition to my visit to the Pinball Expo 2022, I took the opportunity of my trip to see what was going on in terms of arcade and pinball venues in Chicago and Indianapolis. As in my previous trips to other states in this great country, I was not disappointed.
Indeed, whether they are arcade bars, arcades or multi-game complexes, these places are not lacking. Moreover, they usually offer a large number of machines. Judging by their attendance, they seem to be successful, attracting a mixed clientele to boot. It is worth noting that the places where the machines are all paying represent only a minority of the places visited.
The different models of barcades
Of the 11 places I visited, I could observe different economic models:
Bar + all paying machines : the machines are equipped with coin and/or $1 bill machines, a contactless CB reader, or, more rarely, with token machines. With some exceptions, the prices are not degressive: in the overwhelming majority of cases it was $1 a credit. The good news is that the places that provide paying machines offer in return machines in a perfect state.
Bar + all the machines in freeplay: it's not written anywhere, but the good manners suppose to take a drink at the bar, which is like an admission fee, but at least you get a drink. From a customer experience point of view, this is naturally the model I prefer. I wonder if it is profitable on the long run.
Bar + mix between free machines and paying machines: some bars put only some of their machines in freeplay: some of their pinball machines, or their classic arcade machines, this selection can evolve with time, especially depending on the use of paying machines. This model is a mix of the first two models, combining the profitability of the first with the attractiveness of the second.
Pay-per-entry gaming room + all free-play machines: two of the places we visited applied this model, where we were given a bracelet or a receipt that allowed us to return in case of exit.
Bar+100% of paying machines
Enterrium
2 Woodfield Mall Unit A, Schaumburg, IL 60173
https://www.enterrium.info/
This venue, located in a shopping area not far from where the Pinball Expo was held, was hosting a pre-party on 10/19, the night before the Pinball Expo.
For the occasion, the space was rearranged to accommodate about 40 pinball machines. Many VIPs were present (Gary Stern, Todd Tuckey…) and on the Stern Pinball side, two 007 pinball machines (Pro and Premium) for which the queue was so long that I decided to wait for the Pinball Expo to play them. Jersey Jack Pinball and especially American Pinball were not to be outdone since they had brought a lot of machines.
During this evening, we were given a card that allowed us to enjoy the free machines for 3 hours, but usually all the machines are paying. When we went back to the Enterrium a week later, there were only a dozen pinball machines left, which was probably more representative of their usual quantity.
The Enterrium organizes pinball tournaments all year long, and seems to take an active part in the animation of our community.
Beyond the pinball machine, this place has a bar and a food court, a bowling alley, a dozen classic arcade machines (including the mythical Missile Command) and a gigantic space of modern arcade machines, and for that I did not visit any other comparable place during my stay (except Pinball Expo).
Emporium Arcade Bar

1366 N Milwaukee Ave, Chicago, IL 60622
https://www.emporiumarcadebar.com/
There are several Emporiums in Chicago, I could only find time to visit the one in Wicker Park.
Many classic arcade machines are present, in the room where the bar is, but also all around the room where there is a dancefloor and the DJ. Quite incongruous to see a bar box with people dancing in the middle of arcade terminals, and others playing.
On the bar side was a line of 8 pinball machines (2 of them turned off), paying with chips. The machines are not all recent, I played a few games of The Shadow table without lingering too long, as I was getting tired.
Note that this was the only place I visited that offered to pay with tokens, and it was the only place where the prices were decreasing, since the unit price of the chip decreases according to the quantity of chips bought.
Pins Mechanical
856 Carrollton Ave, Indianapolis, IN 46202
https://www.pinsbar.com/indianapolis
Pins Mechanical is one of a franchise of 9 large bowling alleys in cities throughout the eastern United States. The one in Indianapolis offers a remarkable line-up of pinball machines, both in quantity and in terms of quality of selection.
We found no less than thirty pinball machines:
A majority of Stern: Rush, Godzilla, Mandalorian, Led Zeppelin, Avengers, Turtles, Jurassic Park, Iron Maiden, Guardians of the Galaxy, Stranger Things, Star Wars, Munsters, Aerosmith, Star Trek, Batman, Metallica, Ghostbusters, ACDC, Walking Dead, Mustang, Transformers, The Sopranos
Jersey Jack Pinball: Willy Wonka, Guns 'N Roses, Toy Story 4.
Classics from other brands: Medieval Madness, Attack from Mars, Roadshow, Jurassic Park, Replay believe it or not.
All pinball machines are set to $1 per credit, but the machines are beautiful and well maintained. All they need is to connect the Stern Spike 2 to a Leaderboard!
Bar + all machines in freeplay
Replay Lincoln Park
2833 N Sheffield Ave, Chicago, IL 60657
https://www.replaylincolnpark.com/
Nearly 40 classic arcade machines and more than 20 pinball machines are present in this place, composed of two rooms, each with their machines and bar. The list of their games can be found on their website and it is up to date.
No great novelty on the pinball side, the most recent one is an Avengers IQ game and none of the Stern Spike 2s are equipped with Insider Connected. However, all the machines are freeplay, except for 3 big games (basketball in particular) which don't really interest me.
As I see that I'm going to stay, I take a vodka cocktail at $14, even if it's 11:30 am. It's expensive but it's really good and I'll stay playing until 2pm, I forgot to eat. No big crowds at this time but people were starting to arrive when we left. We will come back later during the stay, in the evening, and we will realize that this place attracts quite a lot of people.
The decoration is very nice, especially the one in the second room (the Halloween period is inspiring). I liked the luminous sign on the ceiling "Don't grow up it's a trap", which we will also find at Headquarters Beercade.
Considering the number of machines present, in freeplay, and the decoration and the atmosphere, this place deserves its place on the podium of the barcades of Chicago.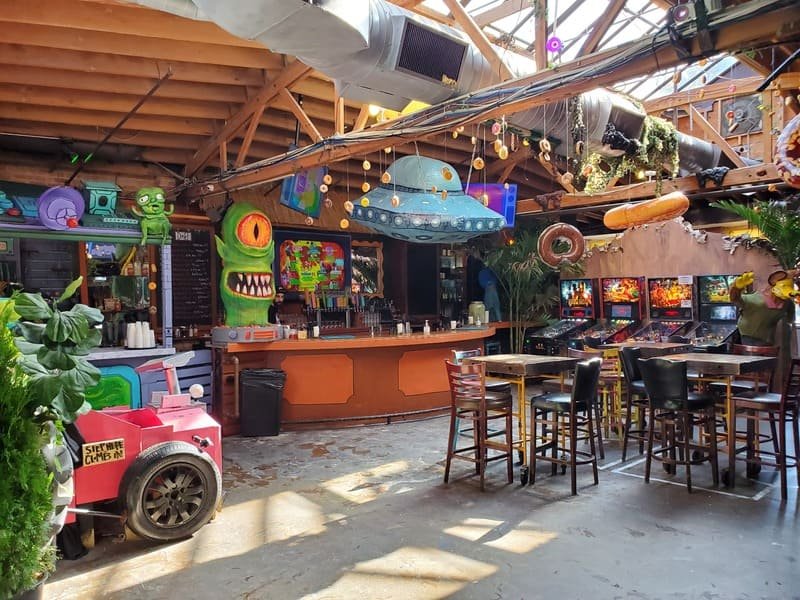 High Line
345 N Wells St, Chicago, IL 60654
https://www.highlinebarchicago.com/
The High Line bar is a drinking and eating place, but it has a barcade floor, called HiPoint, that can be privatized for groups of up to 100 people.
I came in late morning, there was no one there, I had an orange juice and stretched my fingers on the 4 pinball machines on site:
Dialed Inn
Street Fighter 2
Attack from Mars remake
Cue Ball Wizard.
There were also about 15 classic arcade machines, and some big games (Basket Ball and Ice Ball FX). All the machines were in freeplay. A good way to start the day.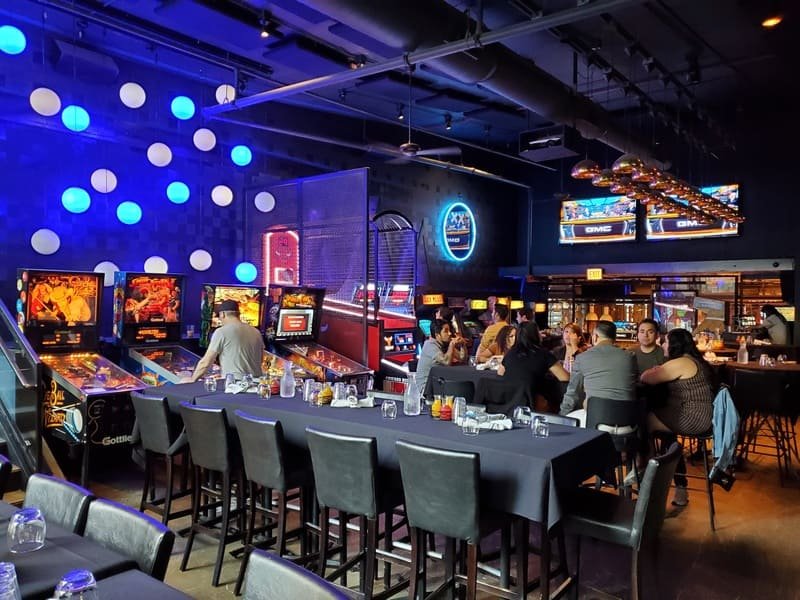 Headquarters – Beercade
213 W Institute Pl, Chicago, IL 60610
https://www.hqrivernorth.com/
During my stay I tried a first visit of this place, which was not successful because an event was organized there. You could enter but you had to pay a $20 entrance fee and the super loud music encouraged me to try my luck another day, which I did the day before I left. And I did damn well.
In addition to about 40 arcade machines with many classics from the 80's and 90's, I found 2 alignments of 6 pinball machines:
Game of Thrones
The Walking Dead
Rush
Godzilla
Iron Maiden
Mandalorian
Deadpool
Turtles Mutant Ninja Turtles
Jurassic Park
Stranger Things
and, the only non-Stern table, Space Jam.
Above each line-up was a leaderboard screen, with the scores displayed for the 8 Stern Spike 2 pinball machines in this selection. When I tried to identify myself on the machines concerned I realized that only 2 out of the 8 were connected to Wi-Fi, too bad. So I'll only play these two (Rush and Godzilla) and I'll rank honorably in the ranking. This proves that the Stern Insider is an attractive product.
The decoration of this place is amazing. Beyond the temporary decoration because of Halloween I will retain the Delorean embedded in the clock, on the back wall.
It is interesting to note the significant evolution of the pinball selection. The quantity of pinball machines does not compare to the Logan arcade, but all the machines are freeplay. The service is great as well as the decoration. It's a very, very nice barcade, close behind Logan Arcade.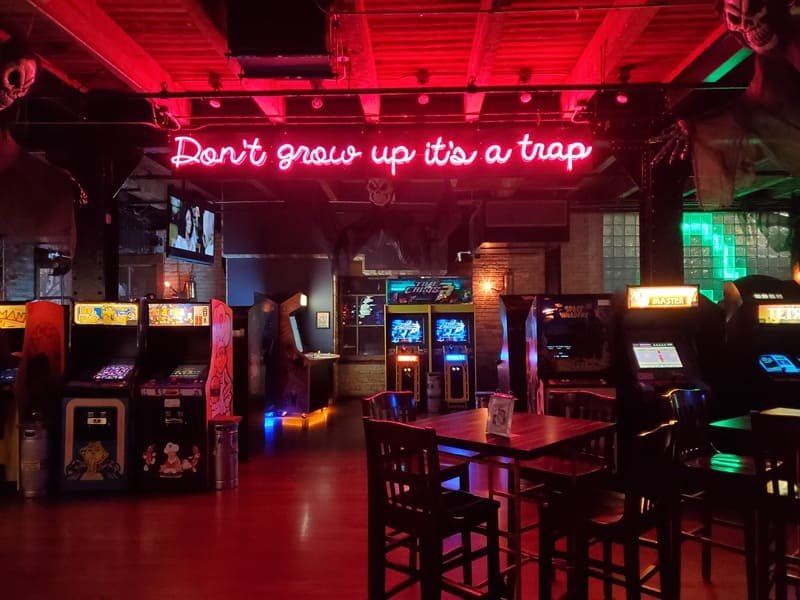 Bar + mix between free and paid machines
Logan Arcade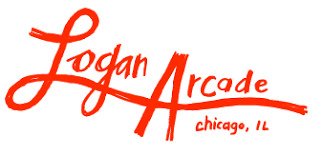 2410 W Fullerton Ave, Chicago, IL 60647
https://loganarcade.com/
The Logan Arcade is definitely the most iconic barcade in Chicago. A place not to be missed, often associated with Stern Pinball launches, I had the opportunity to go there in the evening of the 10/20, during the Pinball Expo. There were a lot of people there, including Gary Stern (he was definitely everywhere) and some of the Stern Pinball staff.
The 007 pinball was on display, and the games played there were broadcasted all evening on a giant screen. Many beautiful machines, of all brands. I was very happy to be able to test the Rick & Morty table from Spooky Pinball, which will leave me a good memory even if the playing conditions were not optimal because of the crowd and the noise.
The arcade machines (about forty present) are mainly vintage American machines of great classics, with some Japanese machines, obviously connected in versus (fighting).
The machines are generally paying but two pinball machines at the entrance were freeplay (Star Trek and White Water) and it is not rare to see some with many credits committed. This place has 3 rooms in a row, the last one is the most beautiful and the most equipped with pinball machines.
I think the Logan Arcade is the best barcade in Chicago: the best lineup of pinball machines I've seen in Chicago, great decor and atmosphere, and some (rare) freeplay machines.
Mission Control Arcade Bar
1408 W Morse Ave, Chicago, IL 60626
https://www.facebook.com/missioncontrolarcade/
It's a relatively out of the way bar, but accessible by public transportation, run by a very nice person in his own universe, known on Instagram as The Pixelated Man.
Many pixel arts are present as decoration as well as a lot of vintage items from our youth, board games, consoles, a VCR, VHS of cult movies… it's a place that smells good nostalgia and in which we feel good.
I order a bourbon, pay a reasonable price ($8 I think), get a double shot.
There is a line up of 6 pinball machines including 5 Stern Spike 2 (not connected) :
High Speed
Black Knight SOR
Aerosmith
The Mandalorian
Batman 66
The Munsters
The pinball machines are not free, at $1 the credit.
The arcade machines are much more numerous, about fifty. There are very nice original models covering the golden age of the arcade, from the late 70's to the late 90's, such as :
Space Invaders
Pac Man
Frogger
Missile Command
Galaga
Xevious
Donkey Kong
Burger Time
Joust
Tron
Asteroids Deluxe (vector)
Pengo
Dig Dug
Contra
Robocop
Ninja Gaiden
Super Smash TV
NBA Jam
The Simpsons
Star Wars Trilogy Arcade…
They were mostly freeplay so I took advantage of that. I'll one-credit Contra and have a double bourbon to celebrate. It was a very good second half of the evening.
16-BIT BAR+ARCADE
110 E New York St, Indianapolis, IN 46204
https://www.16-bitbar.com/indy
The 16-Bit is a bar and arcade that is also part of a franchise, closely linked to Pins Mechanical since both are present in the same 9 cities, sometimes operating the same building.
Here we find a line-up of 5 pinball machines:
Rush
Pirates of the Caribbean (Stern)
The Shadow
Star Wars (Data East)
Freddy
The pinball machines were paying, but that doesn't matter, because the exceptional thing is the important number of classic arcade machines, about fifty, all playable in freeplay. The list is updated and available on the 16-Bit website.
I really liked the pixel wall at the back where everyone can try their hand at pixel art, and thus contribute to the decoration of this place where you feel good.
Game room with paid admission + all the machines in freeplay
Galloping Ghost Arcade
9415 Ogden Ave, Brookfield, IL 60513
https://www.gallopingghostarcade.com/
This arcade provided some or all of the arcade machines present at the Pinball Expo.
This place is absolutely incredible, with about 900 arcade machines (I did say nine hundred) according to the staff there. The website says "The Largest Arcade in the World with over 885 games". Once you pay a $25 entrance fee, everything is free.
Note that there was a Galloping Ghost Pinball just next door. It offers an entrance fee of $20 and about 45 pinball machines. There is also the possibility to buy an entrance fee combining arcade and pinball for $35.
Since I did not visit the pinball part, I will not talk about it further. The arcade part is completely crazy. I only had 2 hours to play, I didn't play much since it took me three quarters of an hour to go through all the lines of terminals…
I enjoyed finding a line-up of vector games from the late 1970s and early 1980s. I tried Lunar Lander (Atari, 1979) without much success but with the undisguised pleasure of having been able to touch this relic of the arcade nowhere to be found (I won't see this machine again anywhere). I found some arcade rarities, like J. J. Squawkers, Gundhara or Gun Ball, the latter being a fusion between a run & gun and a pinball machine.
Boss Battle Games Arcade
6020 E 82nd St, Indianapolis, IN 46250
http://www.bossbattlegamesarcade.com/
Here we change the setting, it is a game room in a shopping mall. There is an entrance fee of $15, then all the machines are freeplay: pinball machines, arcade terminals, and retro consoles connected to giant cathode ray tubes.
There is no bar. Only one person on the spot, installed in the center of a square of windows exposing and selling retrogaming consoles, and allowing everyone to play on consoles and 36 inches cathodics (NES, Super NES, Genesis/Megadrive, Nintendo 64…).
The line-up of 9 pinball machines is composed of :
Recent Stern Spike 2 pinball machines: Godzilla, Deadpool, The Munsters, The Mandalorian
Older pinball machines : Cirqus Voltaire, Demolition Man, Space Jam, Frankenstein and Indianapolis 500
The most numerous machines remain the arcade terminals, and there is a lot of them:
A superb area dedicated to the classic terminals, including vector terminals: the highlight was probably Tempest.
Race cabs: in particular an alignment of 5 F-Zero AX, an alignment of 8 Daytona USA on big screens
Numerous 3 to 6 players kiosks : a superb and rare Darius Burst EX, more classic ones like NBA Jam, Turtles, The Simpsons, X-Men…
Machines dedicated to versus fighting, gun cabs, rhythm games…
The future of pinball
Sometimes it is said that the United States foreshadows what France will be like in a few years. This may be the case with regard to these places of conviviality: in France, we are currently witnessing an increase in the number of leisure complexes opening, which offer pinball machines.
Some of them have understood the power of what connected pinball technology can do for them (the United States is not so far ahead of us in deploying the Stern Insider Connected). By working closely with operators to promote and utilize this technology, organizing events such as tournaments, and communicating, it should help the pinball market grow.
At Pinball Mag. we will be the first to help them get known by our community of players and enthusiasts.