You've decided to take the plunge and buy a pinball machine. If you're still unsure about whether to buy a new or used machine, read our article How to choose your first pinball machine. Because here, we will focus on buying a new pinball machine.
Are there any recent pinball machines?
Absolutely! It sounds amazing when you don't know the business, but several brand new pinballs are coming out every year. We can even rejoice, because since the 2010s, new manufacturers are appearing, and some are doing quite well.
The main manufacturers are: Stern Pinball (the undisputed leader), Jersey Jack Pinball (JJP), Chicago Gaming (CGC) and American Pinball. Other players could become major soon like Spooky Pinball and Pinball Brothers.
After the collapse of the pinball market at the end of the 1990s, it has regained momentum since the beginning of the 2010s. The volumes are certainly nothing like those of the golden age (see our article on the best-selling pinball machines of all time), but the marketing of nostalgia is in full swing: 40-somethings with purchasing power want a machine that reminds them of their teenage years.
A pinball machine: one theme, but several models
Have you chosen your pinball? You've studied everything you need to know about its playfield, its game mechanics? But have you chosen the model?
Well yes, most of the new themes come in different models. At Stern, as a general rule, you will have to choose between the Pro, Premium, and Limited Edition (LE) versions. Each one has different visuals on the body and the front (the "decals"). For the time being, it's a matter of taste.
But the playfield can also change! For example, on Stern's Mandalorian, the Premium and LE versions feature an additional mini-playfield with 2 flippers that drop targets, and the whole thing rotates. On the Pro version, the mini-playfield is replaced by a single flipper and falling targets incorporated into the main board. It all depends on how important this game mechanic is to you. The answer is not universal, it depends on the pinball machine.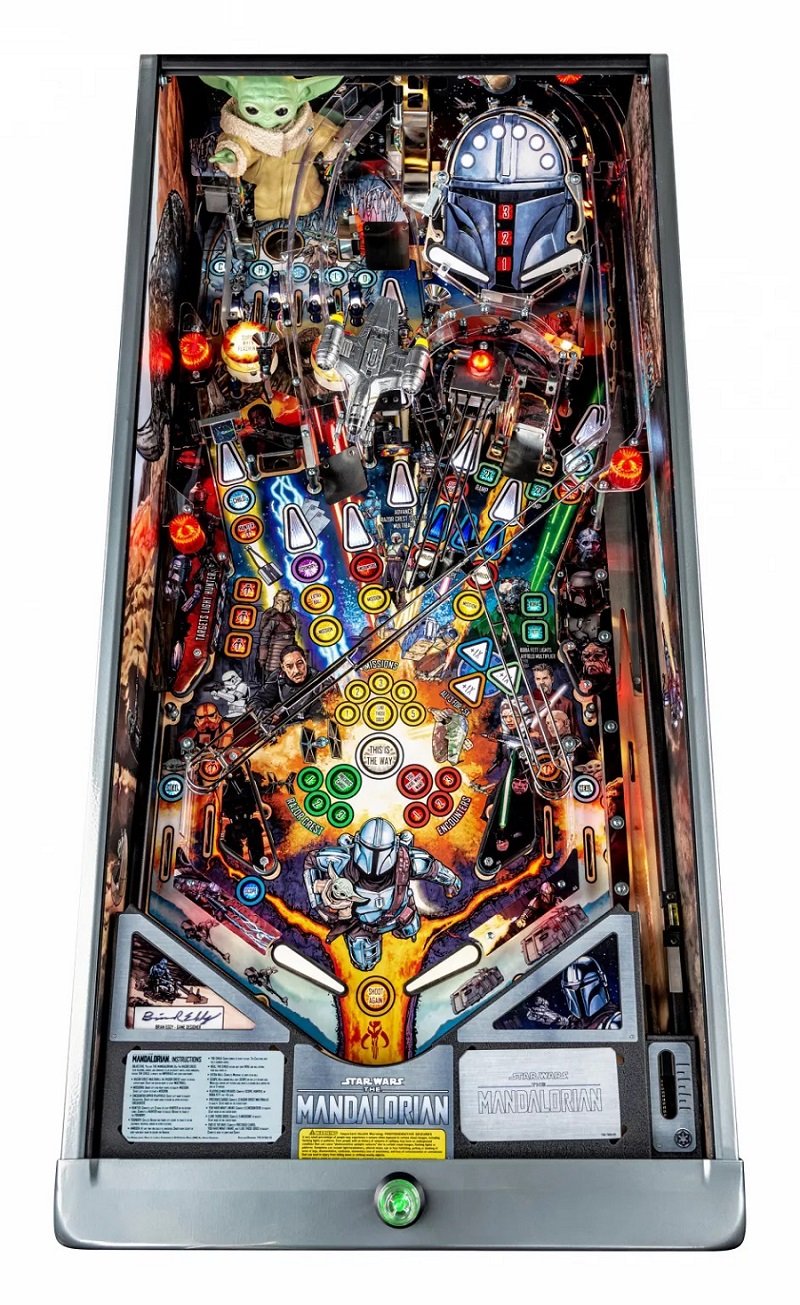 Stern's Limited Editions get extra attention, like colored legs, anti-glare glass, a shaker that rocks the machine, designer signatures or other fan accessories.
Don't expect to find unchangeable rules, each machine has its own commercial strategy. Stern sometimes proposes Collector Edition models, and may skip some versions. Nevertheless, keep in mind that there are several degrees of finishing, and that it is up to you to choose which one to retain, according to your budget, and your taste of course.
We base our examples on Stern because it is the main player in the market, but also because it was the first to structure this range strategy. Nevertheless, other manufacturers have followed suit.
Possible accessories to choose
In addition to the version, check to see if there are any additional accessories that might make you happy. For example, manufacturers tend to sell the topper (a cosmetic element to be placed above the front panel) separately. But we could also mention the anti-reflection glass not present on all games, the art blades (the decals on the sides, inside the box), the customised ball launchers, etc… These complements are not necessarily available from the first day of launch,it can take several months before they are available.

Let's face it: a new pinball machine is already expensive in absolute terms, so it's a bit irritating to see equipment that is apparently inseparable from the machine sold as an option. But that's the way it is, you have to deal with it.
Small manufacturers distinguish themselves by not giving in to the sirens of the mercantile, but they weigh very little in the world production.
Where to buy a new pinball machine?
If you go with a Stern table, you won't have too much trouble getting it. All distributors sell these machines, since they represent something like 80% of the annual production. In fact, Stern Pinball is the only manufacturer that releases new pinball machines with new themes every year.
For other brands, it's a pain. The list of dealers is much more limited, especially if you live outside the US.
Besides, many distributors and manufacturers have outdated websites or no websites at all. This does not make it easy to find what you are looking for, we agree.
Finally, some pinball machines are simply not imported outside the US. This was the case of Spooky Pinball for example. You'll have to buy the game yourself from a foreign dealer, and agree with him on the shipping terms. Sorry, it's not a good idea to think outside the box when you are in a niche market.
If you live in the United States, forget what I just wrote: manufacturers think of you first, because you represent the bulk of the world market.
To understand this market, you have to remember that most professionals are first and foremost enthusiasts, who often don't make a living from selling pinball machines alone. This has its upside: many come to deliver and install your big toy. They are happy to share their knowledge, whether it's about maintenance or techniques for hitting big scores.
The other side of the coin is that it is sometimes very artisanal, leaving the customer to fend for himself.
New in Box
In the forums, you will often come across the abbreviation NiB, for New in Box. It means buying a new pinball machine, still in its original box.
Since this is your first machine, insist that it be unpacked in front of you, and set up. Over time, you will become more and more comfortable handling it. But for the first time, have someone accompany you. Setting up a pinball machine is easier than putting together an IKEA cabinet, but the instructions are not as clear.
Moreover, the assembly of a pinball machine by its manufacturer is still very traditional, and transportation can affect its proper functioning. Badly connected connectors, broken LEDs can be bad surprises when unpacking.
Finally, it happens that the first machines to come off the production line are less reliable than the next ones. This observation can be extended to all manufactured products. Two types of problems can occur: if it is hardware, hurry up to use the little warranty you have (see below). If it is software, it will be less worrying. Manufacturers regularly provide updates for their pinball machines.
Buy from a reputable supplier
Even if you are buying your first new pinball machine, we encourage you to go through a dealer who can provide after-sales service. This means that they have a trained repair team, and will take care of warranty claims, ordering and replacing any defective parts on your behalf.
Moreover, they will also be able to buy your machine back if you feel like changing it. You may not optimize your gain on resale, but you will save yourself a lot of trouble with potential buyers. It's up to you.
Of course, once you become a connoisseur, you will probably find more attractive deals since you will take care of the installation, maintenance, repair and resale negotiations yourself.
While waiting for your skills to improve, going through a reputable dealer will not have disgusted you. Because yes, it can be disgusting to be swindled on Craig's list, to damage your equipment when unpacking or by pulling the playfield a little too hard (true story).
A two-year warranty on your pinball machine? You're fun!
In some countries like in European Union, consumers are protected by laws that do not allow manufacturers to do whatever they want with their warranty.
Welcome to the Wild West: Stern's hardware guarantees are ridiculous. Printed circuit boards are covered for 2 months from the date of shipment by Stern (so if the hardware stays with the distributor for a long time, it's done). Displays, on the other hand, are covered for a generous 9 months. The rest of the parts? Nothing.
At JJP, the warranty is 30 days from delivery to the first buyer. The warranty on electronic parts only is extended to 1 year.
Hence the importance of finding a local distributor with whom you can build a relationship of trust. Normally this dealer must respect the legislation of its country, even if it is more generous than that of the manufacturer.
The American market is wild, ruthless, with buffalo charging, sheriffs practicing summary justice and Comanches attacking stagecoaches! Hm… I'm getting carried away.
Order in advance or buy when the pinball machine is in stock?
If you read the forums, you will notice that the new pinball machines are advertised as being all ordered before they are even produced. There is a bit of smoke and mirrors in this: many pinball machines are indeed reserved by importers and distributors as soon as they are released, but this does not mean that they have 100% customers in front of them. Businessmen anticipate.
Nevertheless, it happens that some highly anticipated machines are snapped up like hotcakes. This is more the exception than the norm though.
So you are faced with a dilemma: pre-order to secure your purchase, or wait until you can play it to confirm it. It's up to you. But know this:
A pinball machine ordered, when it is not in stock, is often delayed for several months with a sum to be paid to lock the order. If you are impatient, ask the question to your supplier before validating your order, you will avoid bad surprises;
Your dealer, if it has a warehouse, often keeps a display model to allow customers to test the beast before buying it. Not necessarily the model you are interested in (Pro, Premium, LE), but it is enough to give you an idea of the gameplay. This exhibition model will often be used in operations (bars, arcades…).
Most pinballs are produced in limited quantities known in advance and announced by the manufacturer. Production is then spread out over a few months or even years. Once the stock is gone, don't expect to see new ones arrive. You will have to fall back on the second hand pinball market.
The price of a new pinball machine
We took a few detours to get to the point, but you have to admit that there was some stuff to explain before, right?
If you go to Stern's website, you'll see that the Mandalorian machine, released in spring 2021, is listed at the following prices:
Pro version : $6,899
Premium version : $8,999
Limited Edition : $10,499
[Editor's note: these prices may change after this article was written.]
And this, remember, without any accessories or additional options. In addition, the prices increase gradually every year.
The orders of magnitude of the prices vary little from one manufacturer to another. Jersey Jack Pinball is more expensive than Stern, Pinball Brothers a little less. Don't expect to find a low cost pinball machine, for the moment it doesn't exist. There are occasional attempts, but none of them are sustainable.
Allow a little extra for shipping, delivery and installation, depending on what you decide.
Anticipate the space required!
One last thing before you break out the checkbook: do you have the space to accommodate your pinball machine? And if you do have the space, will your doors and hallways to the final location let your pinball through?
For your information, a pinball machine is a little less than 6.5′ high, 4.5′ deep, and 28″ wide at the front.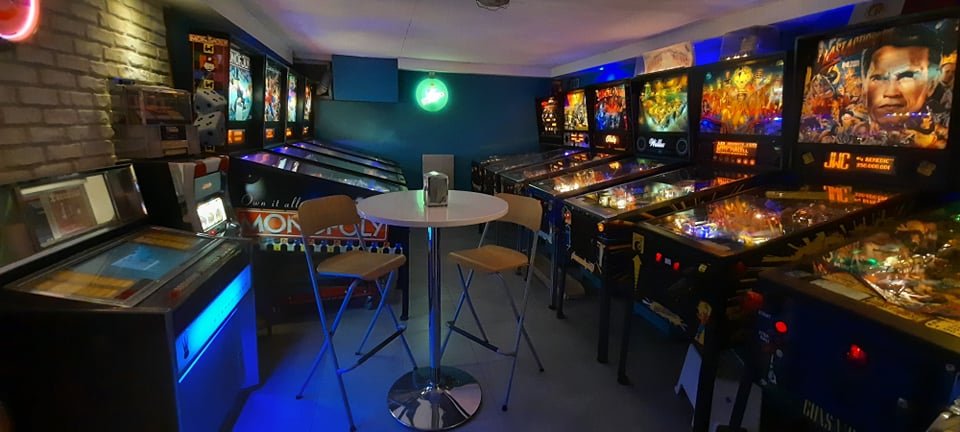 What's next? Oh, it's not finished, is it?
Once you've bought your pinball machine and it's been delivered to you, you think it's over? No way!
Each Pinhead has their own little routines when the machine arrives (changing the rubber on the flippers…), so it's up to you to find yours.
After a few hours of play, you may want to spruce up your machine. This happens to many pinball owners. You'll turn to the mods created by the community.
On the pinball maintenance side, we have already listed everything you need to know.
And then you'll have to consider buying your second machine. The first one is lonely, right?
If, after reading this article, you think that buying a pinball machine is not for you, you should know that it is possible to rent one for a few months. In this case, the rental usually includes the maintenance of the machine and its installation.
Or, if you are lucky enough to live in a country where barcades still exist, back to the roots!