The world of pinball is like that of any manufactured object that can be customized: a universe filled with more or less official accessories, which gives free rein to the creativity and sense of customization of each pinhead, thus allowing any machine to be, to a lesser extent, unique.
Well, let's be honest: From originality to bad taste there is only one step, and very often your taste in customization will not be the same as your neighbor's (and vice versa for that matter). But the debate on the limit to be crossed before you look like a real "tuning addict" is not the purpose of this article.
No, here we will try to list as exhaustively as possible the different additions, mods, upgrades and other improvements available for our dear machines, recent or retro.
This list will obviously evolve and if you notice something you forgot, don't hesitate to mention it on our social networks.
On that note, get out your notebooks, today we are customizing our machines and you might find some ideas you like!
Switching to LEDs
Let's start with a classic among the classics: the conversion of a pinball machine (retro, the latest models are necessarily equipped with them) into LEDs. At the time, our dear machines were equipped with incandescent bulbs. And if some people want to keep the original and very warm aspect of this type of bulb, even today, most of them take the step and switch their machine(s) to "full leds".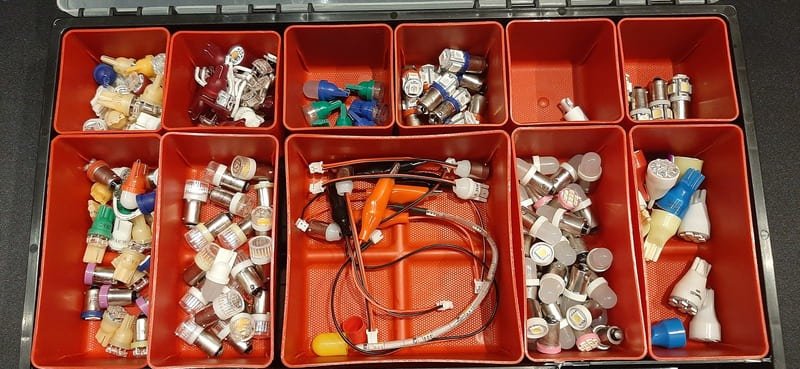 If the power consumption and the overloading of the power cards can be arguments put forward for this kind of modification (although this is debatable, your pinball machine is rarely turned on every day for hours and hours…), it is mainly for purely aesthetic reasons that we let ourselves go to this small modification.
Even if nothing is irreversible and this modification can seem quite simple, some advice nevertheless:
Keep in mind that LEDs are more expensive than incandescent bulbs, changing the entire machine to LEDs (General Illumination, Backbox, Inserts and Flashers) can sometimes cost several hundred dollars.
All qualities of LEDs are not equal, prefer those with an integrated capacitor, otherwise you will be confronted with a very unpleasant "flickering" or "ghosting" effect, particularly visible on the inserts, which will tend to never turn off completely. These two problems are related to the way in which the lamps are triggered by the vintage power supply cards.
If technically, a led can replace a bulb, it is not guaranteed without prior modification. Some machines, especially the older ones, will sometimes need adapters on the power supply cards to avoid the effects mentioned above (this is the case on some Bally from the end of the 70's/beginning of the 80's).
Take your time, choose your leds with accuracy and keep in mind that the light of a led is much stronger and less diffuse than that of a filament bulb, you can very easily spoil the design of a machine by choosing your leds in haste.
The color screens
Again, this modification concerns pinball machines released before the arrival of standard LCD screens (i.e. 2013 for Jersey Jack Pinball and 2016 for Stern) and which are therefore equipped with a DMD display (Dot Matrix Display: a screen with a matrix of dots, usually orange or red in color). Two major solutions are currently competing on the market:
Color DMD for the first one, a company which proposes screens taking again the original design of our old DMD but replacing the "points" by leds. The result is identical to the original but fully colorized. They also propose an LCD version which allows to smooth the contours of the animations, an option which makes sense on the Stern generations of the 2000's for example, more recent than the classic Gottlieb, Data East or Bally/Williams, for which one will prefer the rendering by "points". The advantage of this solution is its "plug and play" aspect and the quality of the colorizations, supplied with each model. The disadvantage: its very high price. Count around 500€ for a screen of this quality.
The other solution is the Pin2DMD. This community and open source project aims to use the same type of screen as for a Color DMD but by composing it oneself, by buying the various elements and by assembling them. The rendering here is necessarily by "point", no LCD possible. There are however larger screen sizes, which allow a display in 256×64 pixels (PIN2DMD HD). It should also be noted that the latest versions of the PIN2MD firmware can manage colorizations up to 64 colors.
The advantage of this solution is mainly its price: 2 times cheaper than a Color DMD.
As for the preference of the colorization rendering of one model or the other, it is all a matter of taste…
The "convolux" or plastic protectors
Putting plastic under plastic decorations, you will say "what for?" Well, there are two reasons for that:
The first is to protect your original decorations from ball impacts, especially on the most solicited parts such as slingshot decorations for example.
The second is to take advantage of it to bring a complementary light effect by proposing "sub-decors", translucent but in colors. These will react to the light of the leds and bring a complementary luminous halo which, on certain models, will be of the most beautiful effect.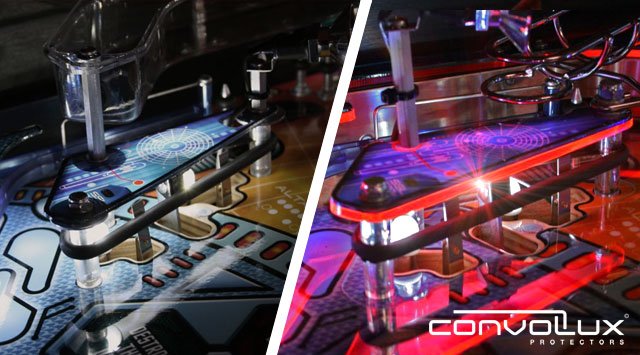 These plastic protectors take the cut of your original decorations and are inserted between the original fixings and the decoration. They add a little extra thickness and in some cases, will require a little adaptation to allow them to be fixed properly.
If you are not convinced by the colored rendering, you can always opt for the transparent models or simple plastic washers such as PMMA that are fixed in the same way.
The toppers
If the principle of toppers is not new (many retro pinball machines were equipped with them at the time), the fact that they are an option today on several models, notably from the Stern range, is rather recent (there is no small profit in the land of pinball!). Even if some models of the time also had optional toppers (it was the case of the NBA FastBreak for example), the change of target with the private market pushes our favorite manufacturers to also launch accessories to equip our machines.
We won't mention the unofficial toppers, the printed plexiglass pieces or other homemade dioramas that look more like dust catchers than anything else, to focus on the official toppers, produced by the machine manufacturers or their partners.
While some manufacturers, such as Spooky Pinball, offer standard toppers on their high-end models, other competitors, such as Stern, offer them as an additional accessory. In any case, standard or optional, there are two things that are systematic with these objects:
They look good and react to certain phases of the game (usually with lights, mechanical actions, images or sounds)
They cost the equivalent of a kidney…
So it's up to you to decide if you want to add a few more centimeters to the ceiling height of your favorite machine and spend a few hundred doflars on your wallet, or not…
Shooter rods
Some people will tell you: "A shooter rod is one of the only pieces of equipment that we interact with, it's heresy to replace it with a gadget with an improbable shape!"
And they're not entirely wrong… but that doesn't stop the market from being flooded with more or less successful custom models, whether it's 3D printing, hijacking of toys or various and sundry objects or, again, official accessories. Like toppers, manufacturers also launch into optional models, which for some designs, are a false good idea (we're talking about the shooter rod of the Elvira 40th anniversary ?)
If again, the price varies between models, the advantage is to be able to express your nonconformist side with an improbable accessory before you realize that it is impossible to make a correct skill shot with a dinosaur head shaped trinket…
Here there is no real problem to find this kind of accessory, you just have to go on the first mods site to freak out and you should find your precious relic…
Artblades or mirror blades
The inside of a pinball machine is ugly! It's always painted black and on some models, it really stands out from the rest of the board. But the world of pinball hates a vacuum! An available space? We put a sticker on it!
The main objective is to extend the decor or the theme of a pinball machine through an artwork that will be stuck along the inside of the box. The idea is quite good, even if the result varies between models. Be careful about the quality of the artblade you choose as well as the physical properties of the product. An artblade on an ordinary shiny self-adhesive vinyl with a coarse definition will surely cost less than a model on a thick, granular and repositionable vinyl but will be a real pain to apply… Not to mention its duration in time. This area is very often subjected to friction from the lifts of the playfied, you can quickly find yourself with a sticker all torn inside your pinball machine. Not a good result…
For owners of recent models, new limited editions, there are obviously licensed artblades for most of the models released in recent years, for almost all brands.
And for those who don't like the look of additional artwork inside a pinball machine, there is an alternative: mirror blades. Here, the same principle except that it is a mirror effect that brings some depth to your board. For the latter, you must be careful about the thickness of these additions, because here again, scratches will quickly get the better of the "wow" effect of these interior mirrors.
Speaker panels/bats/apron covers
While many pinball machines are equipped with speakers pannels in the machine's colors, not all of them are. Many Bally/Williams models of the WPC95 generation or even the Stern Spike 1 & 2 models have this good old black plastic or metal part, which stands out from the rest of the machine. Here again, we fill the gap! You can easily find sticker or magnet models to extend the design of the pinball machine.
For the flippers, idem (the smallest empty space is sticked!). If you're tired of this small piece of plastic, you can always glue some plastic additions to match the theme of your machine, which will sublimate (or disgorge, as you wish…) your flippers.
And since the world of pinball tuning is only limited by the imagination of pinheads, you can even find magnetic "apron covers" that replace the original design of your machines. Or even (for the more discerning) custom metal aprons, usually with hand-painted artworks or laser-cut images, sometimes with LEDs. It's all a matter of taste, but let's be honest, whether you like it or not, the customization work is usually quite impressive on this type of piece.
The shakers
Tired of your downstairs neighbors? Nostalgic for your first Dual Shock controller on Playstation? Want to add a bit of randomness to the trajectory of your balls by shaking your machine? Want to test the resistance of your game's screws to vibrations?
The shaker is for you! Same principle as on your Xbox controller, but on the scale of a pinball machine (therefore bigger).
If some vintage models were already equipped with them a few years ago (e.g. Gottlieb's Gladiators or Williams' Earthshaker) in order to match the theme of the pinball machine in question, you can now add them to almost all the models that exist.
On some editions, it will even be a standard accessory. This vibrating engine is programmed to react to gameplay sequences and brings a "je ne sais quoi" that goes from perfect immersion for some, to a totally useless gadget for others…
Here again, you'll find official accessories or even some very neat initiatives, at Pinsound for example, which offers a shaker in addition to their sound card and remixes available for various machines.
Anti-glare glass and polarizing filters
Considered by many players as the ultimate and essential accessory to play in good conditions, this type of glass allows you to see your board in the same way as if you were playing without! An ultra-transparent rendering, which avoids the reflections of the backbox or possible leds in the speaker pannel which are disturbing in the long run and spoil the visibility of the game.
Be careful though, if you combine this accessory with a playfield protector, you will shift the problem to the PP, which will reflect what was previously "filtered" by a classic glass.
Note that for pinball machines equipped with a DMD display, there is also a solution to limit the reflection on the glass even more: the DMD Glare. This is a polarizing filter that is placed between the display and the glass of the speaker panel. The advantage of this addition is that it filters the part of the luminous flux that is usually reflected on the glass. This is the perfect combo for any owner of a Dot Matrix generation pinball machine.
he playfield protector
Let's talk about the famous Playfield Protector! Revolutionary upgrade for some, disposable downgrade for others… it divides as much as it sells!
The principle is quite simple and looks like the screen protectors of your smartphones. A plastic protection (in this case PETG) is placed on a clean surface, on which you will have previously removed the elements that hinder its positioning. Once fixed, it holds and offers a "shiny, glossy" result as shiny as greasy hair, smoothed with a Pento!
And it protects (to a lesser extent) your platter, avoids scratches, impacts and limits the effects of dimpling (craters formed by the impacts of balls on the platter).
At least for a while. Because like any surface in contact with the friction of the balls, the dust and all the impurities under your playfield, your PP will inevitably become as dull as your girlfriend's eyes without makeup in the morning… (-10 points for sexism with this sentence, I grant you…)
In fact, nothing serious since it simply means that your PP has done its job and that it's now time to try to bring it back with a lot of plastic polish or, simply, to change it for a new one…
Some will also tell you about the different ball feel, the friction coefficient not being the same as when the ball is in contact with the board varnish. It's up to you to decide if you prefer the longevity of your board or the pure gameplay. There is something for everyone…
As far as possible, stick to the "official" Playfield Protector brand, generally of better quality than the non-branded reproductions.
The speakers lights kits
The smallest empty space! If you find that your speakers seem to be all naked and lifeless, you can totally cover them with a light effect worthy of the discotheques of the Var coast! And bim, we throw a speaker lights kit and we play for 30 minutes to find the best light/effect setting that will give life to your speaker panel.
The principle is simple: A strip of LED in a spacer that comes between your speaker grille and the famous speaker, a power supply, a setting that suits you and it makes light. Once again, we can go very quickly from the real trendy accessory to the pure product of bad taste! It's all a question of dosage and the chosen machine (and therefore its theme). Don't go and put a led strip on a Medieval Madness game, you slobs!)
If you want to see the rendering, as well as the installation, of this kind of accessory, we refer you to the video of Lazarus who installs a kit on his famous Elvira House Of Horrors.
The pinstadiums
If you don't want to use LEDs on a pinball machine or if you absolutely want to have the same look as the lighting of the Madison Square Garden, you can opt for the Pinstadiums (the name is clear).
If I have to admit that I still don't understand the purpose of this accessory (especially on the recent pinball machines) which, by the way, costs about the price of your remaining kidney, the result is still quite incredible. It's bright, but very bright… Maybe even too bright…
In short, here you are going to add lighted rails that will outline your playfield and will come to be fixed just under the glass to add a maximum of light, in a uniform way and on a large surface.
We like it or not. The final result is similar to your PC screen with the maximum brightness at night, you can only see that and you better not have fragile pupils!
Ha, and a little coquetry of the product: You can also adjust everything (intensity, colors etc. …) but through a mobile application. Yes, we are in the future, folks!
Visual mods
Well, it's absolutely impossible to list everything that exists on the web because this universe is so rich. The principle of a mod of this type is to add a visual element missing from the original board. Basically to complete it, to embellish it or to replace a flat scenery by a 3D element.
Nevertheless, we can distinguish several categories:
Those who divert figurines, toys or collectibles to come and fix them with Rislan in 10K€ machines under the pretext that it "finishes better". (Lazarus, if you can hear us…)
Those who got a 3D printer for Christmas and start 3D design with about as much talent as I have in sewing. Not to mention the crude printing without any finish…
Those who have a 3D printer and the design mastery that goes with it to offer us mods that are real little nuggets
Those who have gold in their hands and offer us mods that would make pinball toy designers look like vulgar apprentices in need of originality
I might as well tell you that for the first two categories, you might end up ruining a machine more than improving it. For the next two, if the products offered can be of great quality and sometimes even prove to be real essentials, it's all a question of taste and dosage. (When your pinball machine looks like a Toys 'R Us shelf, you have gone too far…).
In any case keep in mind one clear rule: Mods are not installed permanently. Anything that is added must be removable without any damage to the original machine. Your tastes are not those of a potential future buyer, the day you decide to sell your baby.
Custom paint jobs
Even though it belongs to the category of visual mods, this type of job is quite special since, contrary to the rule stated above, it will almost indelibly modify your pinball machine. These are custom paint jobs on various parts of your machine. Most of the time, these are decorative elements with a dubious finish that deserve to be airbrushed by the artists who offer this kind of service. Just to honor the machine.
We could cite the example of a pinball machine like Williams' Dracula, whose decorations are quite satisfactory but whose original paintwork is poorly finished, or the electric chair of Bally's Addam's Family, in the same situation. Many machines have factory painted decors that sometimes deserve to be enhanced.
If you are not comfortable with this type of modification, consider hiring a professional who specializes in this area. It will be more expensive, but you will usually get your money's worth.
Enhanced sound kits
Here, like color screens, two big solutions stand out: The first one, plug and play and which is now ranked among the must-haves in customization: Pinsound.
The second one is identical in content but more "DIY" in form, it is Tilt Audio (formerly RasPiSound).
Pinsound is a French project well known in the field since it is very active thanks to its community of soundtrack creators. If the product is technically plug and play, the remixes of the original soundtracks are left to the hand of the budding artists who, it must be admitted, are capable of real little feats. A Terminator 2, a Doctor Who, a Lord of The Ring or even a Jurassic Park machine take on another dimension when you add a soundtrack from the original music. If you are demanding and take the opportunity to equip your machine with the speaker kit that goes with it, then you enter a new dimension where the only limit will be your ability to not push the volume button to the maximum because it is so enjoyable! (That and your neighbors who will hate you more!).
Tilt audio will require a little more dexterity to build your audio card and research to find the right hardware, but the result is essentially the same and some machines really have nothing to be ashamed of once equipped with this solution. Moreover, some models only have their remixes available with one or the other solution.
Whatever you choose, it will be a real rejuvenation for your machine!
Silicone rubber bands
In the technological developments of recent years, silicone rubber bands raise much the same old/new generation debate as LEDs versus incandescent bulbs.
Some people swear by the feel of our good old rubber bands that get dirty quickly and become brittle over time, others by this new generation of silicone bands, shiny, more resistant and easier to clean (not to mention the choice of colors much more important than with traditional bands) but which offers a different feeling, sometimes favoring unexpected bounces or "airballs".
Again, it's all a matter of taste and as with almost all the topics discussed since the beginning of this article: go for the big brands rather than the cheap ones, Titan Pinball for example offers very good silicone rubber bands whose feel in play is close to what you can find with rubber models.
Alternative translites/decals
A great classic in the pinball world: changing the artworks of a pinball machine when you don't like it. And if it is rather complex to modify the one of a board (although there are overlays for some models), it is easier to do it for the translite and the case.
The first modification is within the reach of anyone, and will simply consist in undoing the rods (the "trims") which maintain the plastic sheet against the glass of your backglass to change the model.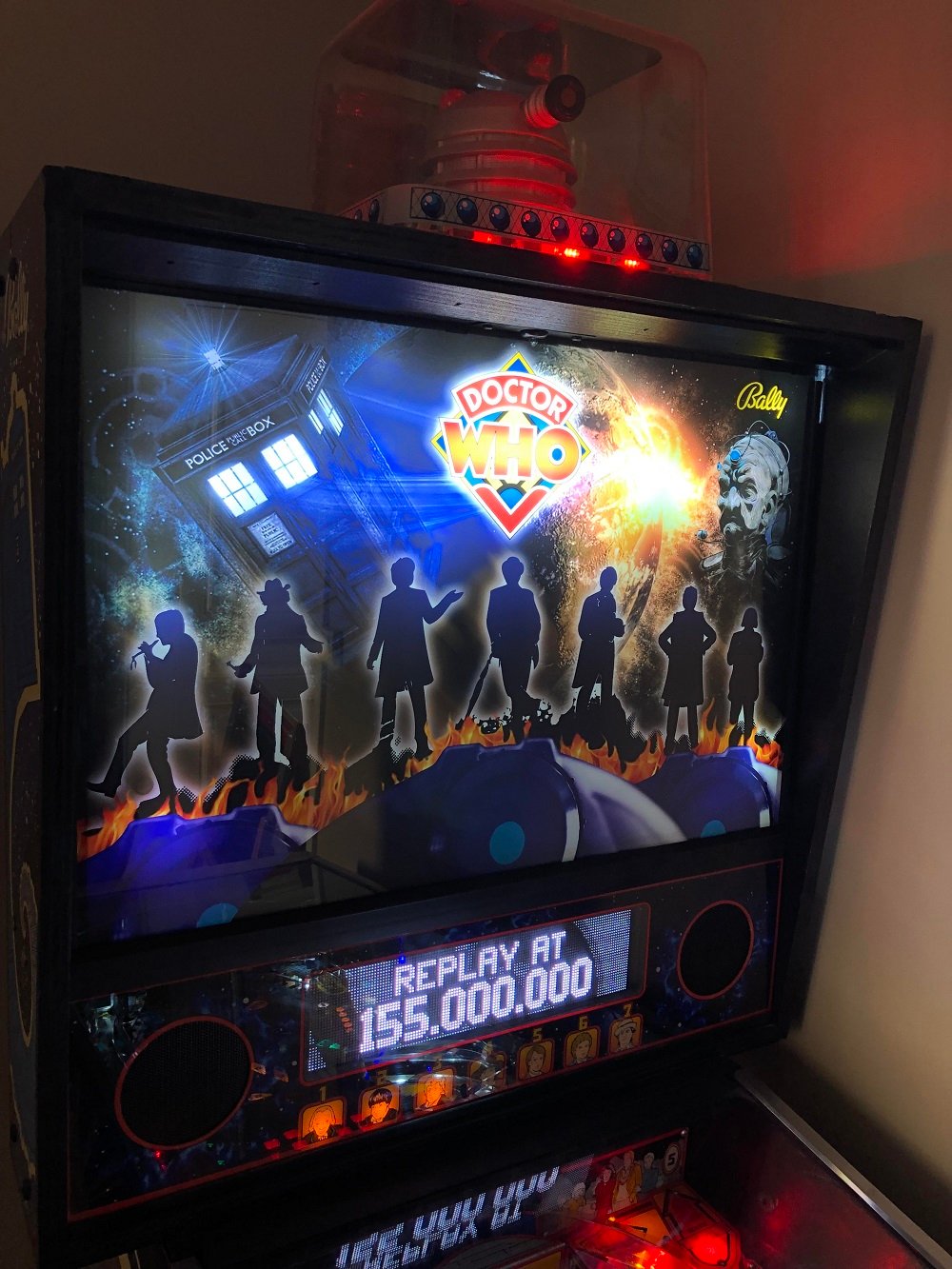 The second is a bit more complicated, since you will have to remove the old decals and the glue left on the raw wood, prime the box (putty, sanding, painting) and glue the new decals, usually after having completely disassembled the top of your machine and separated the head (the backbox) from the rest of the pinball machine so that you can lay it on its side and work on a flat surface. In short, always be aware of what you're getting into and if you don't feel like making a modification, go to a professional (or change your mind, maybe that's a sign!).
Aluminum flippers
It's a fact, flippers have not evolved much over the years and are almost always on the same model, despite some nuances in the size or shape according to the manufacturers: they are silly plastic pieces mounted on a metal axle.
Some purists have nevertheless tried to revolutionize the concept by proposing an aluminum alternative. If the release of this kit is quite recent (and therefore the feedbacks are quite rare), the initiative is interesting and would offer an increased precision in game. Real added value or trendy gadget? If you want to try it, you can find this type of kit on the biggest pinball forum in the United States: Pinside.
Web connectivity
The future is now! As Gary said in his interview at Pinball Blaster 2022: "Even my fridge is connected, why should a pinball machine be an exception?"
While some brands like Jersey Jack Pinball have wifi connectivity on their factory machines, some kits allow machines to join the wonderful world of the Internet with a capital "I".
Why, you may ask? Well, first of all to facilitate updates on the one hand, but also and above all, to allow you to enter online competitions, share your scores, sign up for tournaments, unlock new achievements and very probably (in the nearer rather than the distant future), to access the wonderful world (or not) of DLC. A world borrowed from the video game industry where you will be able to "upgrade" your machines with new versions of code, including content that is likely to be paid for.
The Scorbit solution allows you to connect just about any pinball machine (and pincab) with their cross-platform solution and engage in online competition, score sharing or even streaming. Stern was also able to follow suit for its machines with the recent Stern Insider Connected, whose vocation is more or less the same, except that it is limited to Stern machines.
If this kind of accessory is still struggling to find its audience, there is no doubt that it will become an essential in the future, if only to access certain online competitions or to access additional content. It's not for nothing that Stern now equips all its original machines with it.
Conversion kits 2.0
Your old machine from the 80's and 90's still has a place of choice in your game room, but it's getting old with its simplistic gameplay? Do you want to rediscover the pinball machine you've been rinsing out for years, to the point where the slightest subtlety in the code no longer holds any secrets for you?
Some manufacturers have thought of you and, for a few hundred bucks, offer you to upgrade your old school machine to a version that would not be ashamed of the recent productions. Bride of Pinbot 2.0, Funhouse Rudy's Nightmare or even Tales of The Arabian Nights 2.0, all of them are polished evolution kits whose aim is to give your classics a real facelift!
Ranging from code updates to additional accessories or even complete reskins of iconic machines, some of these kits offer you to discover your historical machines in an almost current configuration, with a color screen, complex animations and reworked sound.
Rare and expensive, these productions are nevertheless almost unanimous at each release as the change is impressive. However, there are two elements to take into account:
If some kits are meant to be "removable" so as not to permanently modify your machine, switching to custom body decals or tray modifications will prevent you from going back and amputates a part of the "pinball" heritage of one of the models from the original production.
The price is almost unreasonable for some kits, especially since they are generally limited. So expect to be unfortunate enough to have to play the speculation game if you decide to switch to this kind of kit after all the models have been sold.
Instruction cards (or rules cards)
Aren't those original cards ugly? So, if recent manufacturers have pushed the exercise of customization to the colors of the machine, it is quite different for older pinball machines, which were generally affixed with white cards with instructions in black.
There are a multitude of reproductions or custom versions in the colors of the machine, and if some are sold by different stores, don't forget that you will find a phenomenal quantity available on forums and other free exchange platforms.
An example of site where you will find a multitude of models, free: http://www.pinballcards.com/
Custom side rails
And to finish this overview of accessories and mods of all kinds, we're talking about custom side rails. This is a classic piece (since it is simply a metal rail that joins the window to the body), but for a few years now, it has also been the object of various customizations.
Like toppers and other launchers, some versions of high-end machines come with a custom side rail, usually with a laser cut or an artwork related to the machine.
You will find a lot of more or less successful productions to equip your pinball machines (generally starting from the Dot Matrix generation), but also some official accessories that you can mount on your "entry-level" versions, as is the case at Stern for example.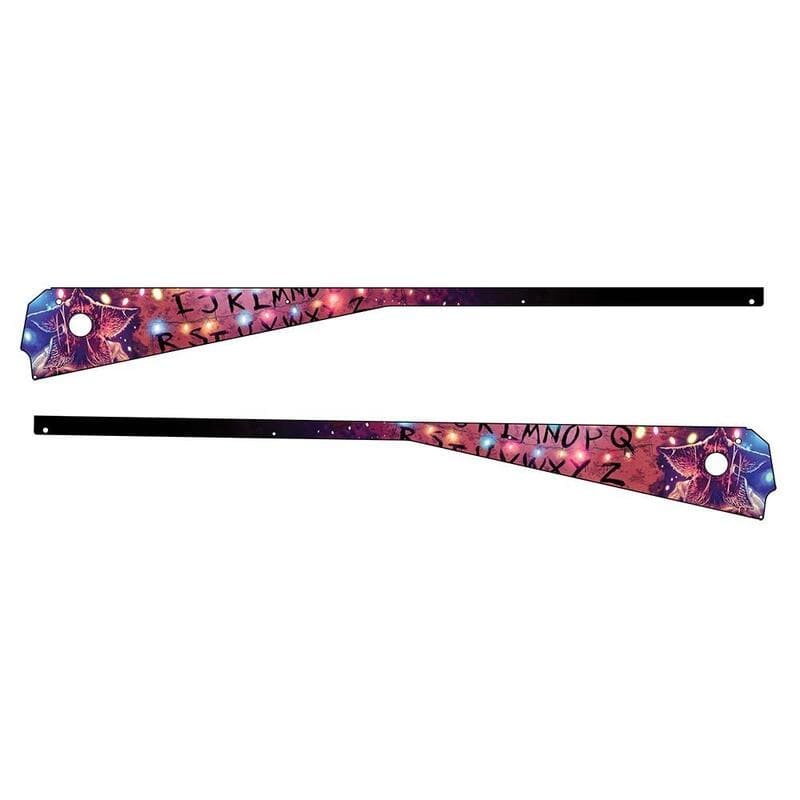 However, beware of the finish of these parts, which are often expensive. While they can look very nice, they are not free of finishing defects. If the painted models are relatively solid, the models equipped with a simple sticker are more of a "bad idea" than anything else as the knocks and frictions with the hands of the players equipped with rings are likely to wear them out very quickly.
It's (finally) over!
So here we are at the end of this (long) overview of mods and accessories. Of course, this list will be amended as we go along, as modders and manufacturers have no limits when it comes to making your machine different and personalized.
Anyway, if you decide to take the plunge, always keep in mind these few tips:
Your taste is not everyone else's. Don't necessarily expect to sell your machine for more tomorrow because you've equipped it with all the mods and accessories available.
Do it for yourself first, not for others!
Make sure that any modification you make is not irreversible. You may change your mind one day and want your pinball machine back to its original state.
Ask before you buy a manufactured product: price, quality, shipping costs (or customs) are all elements that can convince you, but also dissuade you.
As much as possible, try to see how an accessory looks on a machine before buying it. If some modifications seem to sell on paper, it's not always very happy once mounted.
As for the rest, it's your wallet that will temper your enthusiasm… Good modifications!