Romain Fontaine is a discreet man, relatively unknown to pinball enthusiasts. And yet, whenever you're interested in European pinball news, his name comes up regularly. In fact, he's involved in almost every project on the Old Continent!
Romain tells us all about his career, which includes so many European manufacturers that it's like a directory of market players! As you'll see, Romain's background is fascinating, and he explains it with great simplicity.
Hi Romain, can you introduce yourself?
Hi Nick_O, I've been a pinball collector and technophile since I was a kid. I started by dismantling everything I could get my hands on, out of curiosity, without always being able to reassemble it (which really annoyed my parents!).
Today, I work in electronics and programming as a consultant, and a large part of that work is dedicated to pinball machines! I remember a friend who introduced me as a pinball machine engineer, and I thought it was funny 😊
Let's move on to our classic question: what's your first memory of pinball?
My first memory goes back to a weekend when my dad took me to an auction of pinball machines and jukeboxes "just to see". That evening we came home with a Terminator 2 and an Addams Family games. Over the following evenings and weekends, they must have seen hundreds of games. It should be pointed out that my brother and I needed a stepping stone to see the ball, so we must not have been very old!
Then one day, the ejector on the Addams chair stopped working… I grabbed the soldering iron and slipped… through the coin door to re-solder the broken wire, wondering "how do grown-ups do it?" I learned since then.
As the little breakdowns followed one another, I was able to rely on flipjuke (Editor's note: a French forum dedicated to pinball) to help me repair them, while I gradually learned how they worked. I was fascinated!
Do you have pinball machines at home?
Well, as space is limited, I only have the Black Knight 2000 table at home. My other machines are scattered around, like The Addams Family and T2 at my parents' and the following pinball machines in storage: Fathom, Twilight Zone as well as Full Throttle and Alien from Heighway.
Let's talk about your career path. Your early career was technically oriented. Can you tell us what led you to the dark side of tech?
I've been lucky enough to be able to pursue studies in line with my passion, obtaining an Advanced Technician Diploma and then a M.Eng in electronics. I did a lot of robotics during my student years (including Eurobot – Editor's note : a European competition), then worked in research for 2 years. In 2007 I launched the PIN² (Pinball PC Interface) project on flipjuke, and we were able to demo the first PC-controlled pinball machine at the Chailly trade show in 2008.
In 2013, you were hired by pinball manufacturer Heighway Pinball. Can you tell us about the recruitment process?
I first met Andrew Heighway at Flip-Expo in Le Tréport (Normandy) in March 2013. After his presentation, I had a long chat with him about his project and he told me he was looking for people to join his team. I had just finished my fixed-term contract and wanted to work abroad to improve my English, so the coincidence was too good to be true. I sent him my resume and we had a Skype interview in the days that followed, where he asked me "when can you start?" to which I replied "next Monday". So off I went with my 206 Peugeot car and my things to Wales!
What was it like to arrive and settle in Wales?
I arrived by ferry on a rainy Sunday in England and drove to this Welsh town with the unpronounceable name of Merthyr Tydfil. I had no accommodation and slept in hotels for the first week. On my first day of work, Monday April 1 (yes, you can't make that up!) Andrew had arranged for me to meet him at his house at 9am. I rang and rang – no answer on the phone either. Twenty minutes later he finally came to open the door; he overslept…
I then discovered the very first prototype of the Full Throttle game, which had to be repaired because it had suffered a short-circuit. The days that followed were very busy! Two weeks later we previewed the pinball machine in Berlin, where I met János Kiss for the first time, who would later become my colleague at Heighway and my partner at Team Pinball.
As for accommodation, I rented a bedroom in a house share where everyone was talking English. I had exactly what I was looking for!
What was your role at Heighway?
My role was multi-faceted, as Heighway was a start-up and we had very few employees. When I arrived, I was officially the first employee, working from Andrew's home. My role was "senior electronics engineer", which meant I was in charge of designing the electrical and electronic system that ran the pinball machine. We wanted to incorporate all the new technologies, such as multi-color RGB LEDs, LCD screens and internet connectivity.
For the first few months, I assembled and fine-tuned the Full Throttle prototypes while designing the electronics and mechanisms for the game. Gradually the team grew to include a full-time developer, a mechanical engineer, a secretary, technicians and so on. After a year, there were more than ten of us.
You were soon promoted from Senior Electonics Engineer to Technical Director. Can we conclude from this that your integration went well? What was the atmosphere like within the team?
Yes, my integration went well. The team was international and everyone was enthusiastic, at least for a while. The workload was heavy and Heighway's financial situation was already strained with salaries paid late. I began to doubt the company's ability to see the project through, and after a year I handed in my resignation. Andrew came back to me with a job change and promises. The role of technical director was his solution to help solve what was going wrong. This restored my confidence and I continued to work on Full Throttle, Alien and what was to become Queen before leaving after 3 years with the company.
In 2016, you left Heighway Pinball, even though the company officially closed its doors two years later. Can you tell us why you left?
Making pinball is complicated, time-consuming and always takes more money than expected. Financial problems kept coming, and the company's policy was to concentrate on pre-sales and trade shows rather than manufacturing pinball machines that had already been sold. I couldn't see a positive outcome to this project and decided to leave.
Could you feel Heighway Pinball closing? What went wrong?
I had to confront my denial of reality (it was my dream job, remember!) to realize that the company and its management were going to the wall. Andrew always came through at the last minute. He may have been over-optimistic about his ability to run a company, but people always joked that he was the best salesman in the world! And he proved it time and time again, finding new investors and distributors willing to pay a deposit to keep the company afloat. As history repeated itself and the list of investors grew longer, I decided to look elsewhere!
In 2016, you joined Funtronic, which remains in the software and electronics business. A job for food?
Not at all! It's quite simply the start of my activity as a pinball engineer! Since 2016, I've been working with the PinSound brothers. In fact, they're the ones who convinced me to set up my own business and do some consulting! In parallel, I have other clients (in pinball industry but not only). I really enjoy what I do, always being at the cutting edge of technology, whether in terms of the quality and technical level of the products we design with PinSound, or the other projects I work on.
In 2018, alongside your work at Funtronic, you founded Team Pinball with former colleagues from Heighway Pinball. What was your ambition at the time?
Our ambition was simple: to prove that you could make a pinball machine without ripping anyone off! You have to remember the context: Heighway was behind in deliveries, John Popadiuk from Zidware was taking pre-orders and only delivered a few Magic Girls tables and Kevin Kulek from Skit-B who never got the license for his Predator pinball machine!
Mafia was in fact our first "personal" project as a small team (three) with our own funds and at our own pace. We did it for fun and to show what we were capable of; a calling card of sorts.
You're releasing The Mafia pinball machine. What were your goals and do you think you achieved them?
In July 2018 we announced The Mafia thanks to Jonathan Jousten of Pinball Magazine and Martin Ayub of Pinball News. No one in the pinball world had heard of us or the project, and we arrive with 10 machines assembled already! Unheard of!
The 10 machines quickly found takers, and we decided not to make any more, concentrating instead on designing machines for others, thus becoming a development studio.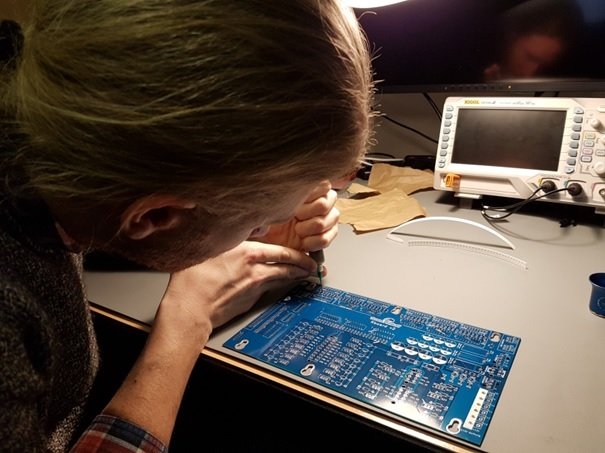 In 2021, Team Pinball begins to partner with other pinball players. How did you come to partner with others? Was this planned from the start?
Yes. Making pinball is very difficult. It requires a lot of talents, time and effort to design and develop. When all this is done, all you have is one or more prototype machines. The manufacturing that follows is just as difficult: some parts are molded, others are machined, welded, cut, painted etc… Getting all the parts, in quantity, and with a satisfactory level of quality is very hard, and we prefer to leave this part to others who can work in close proximity with their local suppliers!
We've decided to concentrate on the fun part – designing the game – and make our expertise available to those who want to try their hand at it!
What's the division of roles between you and Pedretti Gaming on the Rudy's Nightmare kit?
A very interesting question! Team Pinball, and in particular my partner János, took care of the software development for Rudy's Nightmare (editor's note: an upgrade kit for the FunHouse pinball machine, which greatly modernizes it). To be more precise, he designed and programmed the new rules, directed the animators, organized the voice recordings with the actors – in short, the whole package!
For my part, I've been working with PinSound on the design of a new audio/video card to run the game code, play the sound in 2.1 quality and drive the 2 HDMI screens. This card, called "PinSound XL", is part of the Funhouse Rudy's Nightmare kit and the new Whirlwind Total Chaos kit (Editor's note: module for Whirlwind pinball machine).
Same question, but with Pinball Adventures!
We met at the Chicago Pinball Expo in 2018, Andrew MacBain was very excited when he saw our system based on the Raspberry Pi and a single control board: the RBoard. We quickly started working on game concepts that led to the Punny Factory game. Team Pinball designed the Punny Factory playfield and assembled and shipped 2 prototypes of the game to Canada. We collaborated on the rules and János created the game code. We continued with Pinball Elements, for which Luis Dos Santos designed the playfield, and who now works with Hexa Pinball.
French manufacturer Hexa Pinball recently announced your contribution to their first Space Hunt pinball machine. Can you tell us about your meeting?
We started talking about the project in January 2022 with Alexandre Mak, who is also an enthusiast and wanted to create a French pinball machine! Luis quickly joined the project as he had already made his own homebrew pinball machine: Space Hunt. It's a great opportunity for the whole team, and I'm very happy to be part of the project. My role is that of electronics engineer and technical advisor.
What are you actually working on for the Space Hunt?
I design the Space Hunt's electronic boards, in particular those underneath the playfield, to reduce wiring as much as possible for easier assembly and to keep the interior as clean as possible. I also design the wiring harnesses and the power supply board that regulates voltages and protects the pinball machine with fuses.
Now to the future. What are Team Pinball's next projects?
Team Pinball will continue to work on future titles and kits, sometimes a little behind the scenes, but we don't do it for the glory (otherwise we wouldn't be doing pinball!).
And what are your personal plans?
Well, for me it's fame and nothing else (hahaha!). I'm very happy to be working with PinSound and Hexa Pinball, and I hope it continues. It's both fun and challenging. I'm incredibly lucky to be able to make a living from my passion and share it with the community! 😊
What can we wish you for the future?
Well, lots of multiball, extraball and specials!
Thank you Romain for sharing. Any last words before you leave us?
Yes, I'm looking forward to coming to the next shows to see what's new and have a drink with friends!